A Court Ordered Sherri Shepherd to Pay Child Support for a Baby Not Biologically Her Own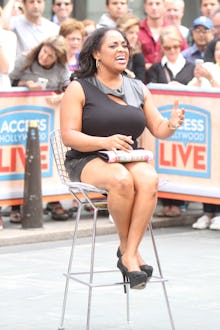 A Pennsylvania court ruled Monday that Sherri Shepherd must pay child support for a baby she and her then-husband Lamar Sally had via surrogacy — even though the couple split three months before the child in question was born. 
The baby boy is the biological product of Sally's sperm and a donor egg, meaning Shepherd is not his biological mother. In April, despite her protests, Shepherd was legally declared the child's mother on the birth certificate (initially, the surrogate mother was listed).
Shepherd maintained the surrogacy and subsequent lawsuits were all part of Sally's elaborate and protracted plan to defraud her. The court was unconvinced, ruling the TV personality must continue paying $4,100 per month in child support, which will increase to $4,600 when the child reaches adolescence.
Shepherd "does not dispute that she freely entered into the gestational carrier contract," the Superior Court ruling stated Monday, according to the Associated Press. "Baby S. would not have been born but for [her] actions and express agreement to be the child's legal mother."
Sally has since been vocal about the victory, speaking to a number of media outlets about the ordeal. "I'm glad it's finally over," Sally told People. "I'm glad the judges saw through all the lies that she put out there, and the negative media attention. If she won't be there for L.J. [the baby] emotionally, I'll be parent enough for the both of us." He is raising the child in Los Angeles. 
Melissa B. Brisman, owner of the New Jersey-based surrogacy firm, Reproductive Possibilities LLC, which Sally and Shepherd used, celebrated the decision too.
"Surrogates don't want to feel that someone could want a baby and then just back out," Brisman said, according to the Associated Press. "The surrogate is not the mother."
Don't be a baby about it: The battle is one of a number in recent years that navigates the legally murky waters of conception and pregnancy assisted by technology and who, exactly, is liable for the resulting life. Many noted the parallels in Shepherd's ordeal to that of actress Sofia Vergara's, who in May was sued by her ex-fiancé, Nick Loeb, to preserve and use their biologically shared frozen embryos. 
In an op-ed letter published in April in the New York Times, Loeb wrote, "keeping [the embryos] frozen forever is tantamount to killing them."
Shepherd's case involves a number of complicated elements. Beyond the hairy legalities that come into play with technologically assisted conception is this less-common instance of a mother being ordered to pay child support. 
While Shepherd, with a reported net worth of $10 million, does not likely run the risk of finding herself in a financially inequitable dynamic, a 2011 study conducted by the Australian Institute of Family Studies found, on average, mothers liable for child support earn substantially less than their male counterparts.