What Is a Mourning Moon? Why You Should Care About Tonight's Full Moon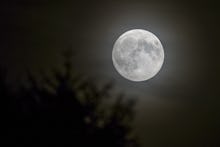 On the eve of Thanksgiving, Pagans will celebrate a traditional and lesser-known occasion known as the "Mourning Moon." Moonrise on Wednesday, which comes on the heels of September's "blood moon" and a supermoon in October, will begin at 5:44 p.m. Eastern, is the last time the moon is full before the Winter Solstice. 
In the Pagan religion, the Morning Moon marks a time of cleansing, according to About, and with it comes a number of rituals designed to help Pagans rid themselves of baggage. Alternatively called the Fog Moon or Snow Moon depending on the region, the type of rituals practiced on Wednesday are meant to rid a person of bad habits.
Per Refinery29, in the Pagan tradition, autumn is a time to physically and mentally prepare for winter. For Pagans, the last phase of preparation in anticipation of colder months involves letting go of old things, habits or people. The rituals are largely symbolic, yet are thought to help Pagans embrace the new year unencumbered by attachment to negativity or grief.  
Twitter users from multiple timezones captured and shared photos of the moon, some counted down the hours before the Mourning Moon and others pointed out the significance of the occurrence.  
Following Wednesday's Mourning Moon, the next full moon to brighten the sky will be on Dec. 25.