Underworld New Album 2016: Release Date and Track List Info for 'We Face A Shining Future'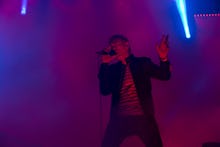 Veteran British electronic trio Underworld, comprised of musicians Karl Hyde, Rick Smith and Darren Price, announced Tuesday the title, release date, track list and tour for their ninth LP Barbara, Barbara, We Face A Shining Future. 
The album, expected to drop March 18, reports Consequence of Sound, is Underworld's first full studio album since 2010's Barking. The seven-track album will kick off with a track called "I Exhale" and is being previewed on Soundcloud. The band will promote their upcoming album during a short-lived European tour kicking off in March.
The album artwork:
A sneak peek at Barbara, Barbara, We Face a Shining Future:
Source: Soundcloud
Track list:
1. "I Exhale"
Tour dates:
March 17: Columbiahalle in Berlin