This Female UFC Fighter Has Great Advice for Athletic Girls Being Bullied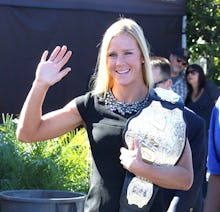 Although Ronda Rousey has become increasingly known for her feminist-tinged advice — lest you forget, she's not a "do-nothing bitch" — there's another female UFC fighter inspiring athletic girls across the country. Holly Holm, who recently beat the previously undefeated Rousey in a high-profile match, shared her advice on a recent HuffPost Live appearance for girls who are bullied for failing to fit a stereotypically passive, beauty-based model of femininity.
"Be confident in who you are because there's only one of you and you can't trade yourself in for anything," Holm said her parents taught her. "It's just you. No matter what other things are outside of you, you're in control of your own happiness."
Bullies might inevitably say and do mean things, but "they're the ones that have to deal with what they did and they're the ones that have to think about that at night when they get home," Holm said. "Whether you react to it or not is up to you."
In addition to offering inspiring advice, Holm is leading by example. Many have noted she has been nothing but respectful since beating Rousey, even highlighting the intrepid groundwork her fellow female fighter laid in the sport.
"A lot of us wouldn't have the opportunity without [Rousey], and I appreciate [her]," Holm told USA Today. Rousey, she added, has "been a very dominant champion for a reason. And I mean that.'"
Holm's advice is especially meaningful given the way our society generally, and media specifically, regards female athletes: 40% of all sports participants are female, yet sports media coverage hardly reflects this. Women's sports receive only 4% of all sports media coverage, according to the Tucker Center for Research on Girls and Women in Sport and, according to another study, ESPN's SportsCenter and Fox Sports 1's Fox Sports Live devoted less than 1% of their air time to women's sports in 2014. Perhaps this is why women aren't integrated into the sports media industry, either, and compose only 10% of sports journalists, as a recent Women's Media Center report pointed out.
As more successful women in sports like Holm speak out about their success and encourage girls to follow in their footsteps, though, perhaps young female athletes will be bullied less for defying gender stereotypes and instead commended for doing so. 
Watch the Huff Post Live segment below:
h/t Huffington Post