What Is the Deadly "Kissing Bug?" Here's What You Need to Know About Triatomine Bugs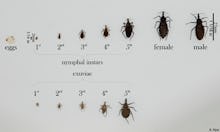 The Centers for Disease Control and Prevention recently reported that the Triatomine bug, better known as the "kissing bug," has been found in more than half the states in the United States. The bug carries a possibly fatal disease called Chagas — but an expert told CNN the bug isn't as deadly as it's made out to be.
Despite the bug's reputation, Sarah Hamer, assistant professor of epidemiology at Texas A&M's veterinary and biomedical school, told CNN "we don't need to be terribly scared."
The bug earned its nickname for the particulars of its bite. The kissing bug feeds on the blood of mammals, usually by biting them on or around the lip, CNN reported. The bug is most prevalent in Latin America but due to migration, occurrences have been reported in the southern region of the United States, according to the CDC. 
The CDC provided a map of states that have reported of the bug:
Rarely harmful: Triatomine bugs can transmit Chagas disease to humans from their bite. A 2013 study showed an average of one case of Chagas for every 900 to 4,000 people bitten by the kissing bug. The CDC estimates roughly 300,000 Chagas cases in the United States, and more were contracted outside of the country. 
A household bug: The bug most often nests in small cracks and holes of a household, according to CDC, but can find home in a variety of outdoor and indoor locations.
Prevalence in the United States: The bug has been reported in 28 states in the U.S. Hamer told CNN these reports aren't new, just receiving more attention now. "The earliest reports are from the 1800s," Hamer told CNN. "The first parasites have been reported since the 1940s. We're just diagnosing more disease, we're paying attention to it now."
How to avoid them: The CDC recommends synthetic pyrethroid sprays, which have been proven effective against the bug in Latin America. Another method includes sealing windows, roofs and doors. It's also helpful to use screens over windows and doors, minimize yard lights as the bugs are attracted to light, seal all holes and cracks throughout the house, having pets sleep inside and regularly checking for the bugs.