Turns Out That 'Phuc Dat Bich' Story Was Total Garbage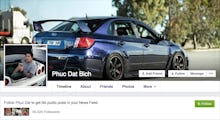 Phuc Dat Bich is not, in fact, Phuc Dat Bich. 
The Australian-Vietnamese man became an Internet sensation last week when a Facebook post he wrote in January, which included a photo of what was supposedly his passport, went viral. In it, he detailed his negative experiences as someone with an unusual name and proclaimed, "I've been accused of using a false and misleading name of which I find very offensive."
Unfortunately for everyone won over by his "troubles," Phuc Dat Bich revealed on Wednesday that the story was a big ol' hoax.
"What started as a joke between friends became a prank that made a fool out of the media," he wrote. "Out of this ordeal I've concluded not to trust the credibility of the media, it's twisted by the hungry journalists who mask the truth."
He signed the note "Joe Carr" — as in joker, get it? — and advised those who actually do have "culturally specific and spectacular names" to throw some deuces in the air and "make your mark on the world in whatever way you can — even if it is a simple prank." The context: Facebook's former "real name" policy, which bans pseudonyms, was widely protested by transgender groups, Native American communities and privacy advocates.
Mashable tracked down a school friend of "Phuc Dat Bich," who told them that the prankster's real name is actually Thien Nguyen. According to Mashable, the friend's story "corroborates with research that linked the number plate of the Subaru shown repeatedly on Phuc Dat Bich's Facebook page with a cached version of an ad on carpoint.com.au." Thien's name was attached to the same car.
Though the hoax artist formerly known as Phuc Dat Bich was still referring to the name in earnest as recently as Monday, he had apparently refused media interviews, and attempts to corroborate his story were fruitless. 
Yet the Internet hoax phenomenon — and the habit of subsequently casting blame on the media — isn't new. 
There was the "three boob woman." There was the threat to leak Emma Watson's nude photos, which was revealed to be a prank by a marketing company. There was "ship your enemies glitter," for which the creator went gleefully to the New York Observer with his "real" story. More recently — and depressingly — there were a number of hoaxes and conspiracy theories centered around the Paris terror attacks.
In this light, Phuc Dat Bich's prankery isn't all that groundbreaking — it's just another cog in the viral Internet content machine.