Coldplay Releases Full Preview for Album 'A Head Full of Dreams' — Listen Here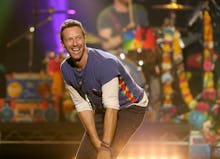 Coldplay is finally back — sort of. The band dropped 11 clips from its forthcoming album A Head Full of Dreams on Instagram Tuesday in anticipation of the its Dec. 4 release. The album is the British rock band's seventh studio album and likely Coldplay's last as a group.
In an interview with Entertainment Weekly, published Monday, Coldplay's frontman Chris Martin explained why A Head Full of Dreams is a personal venture for the band, and how the concepts for the album came about. "About three or four years ago, when we decided to go down this road of making a really small, intimate album like Ghost Stories, the idea for A Head Full of Dreams came at the same time," Martin told Entertainment Weekly. "We thought, 'After making this restrained, intimate album, we won't tour. Maybe we'll feel like playing with a bit more jubilation.' It was really fun to make, which is not what we've felt before."
Snippets from A Head Full of Dreams were posted Tuesday night, with each 15-second clip receiving tens of thousands of likes by Wednesday morning. The songs were uploaded in the album's order in hour intervals, along with colorful, moving kaleidoscope images.
Click on the images below to check out the latest songs from Coldplay, off A Head Full of Dreams: