Everlane's Black Friday Tradition: Donate the Profits to the Factory Workers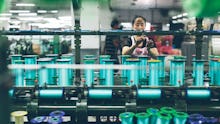 Black Friday doesn't have to be a chaotic, nationwide stampede for low prices and high risk. In fact, it can be something for good.
Fast Company reports that Everlane is prepping for Black Friday in its own unique way: Instead of marking down prices, it's charging full price for everything — and donating a portion of the day's profits to workers at one of its factories in China.
The tradition, now in its second year, is called the Black Friday Fund. "The idea was to donate the profits made on Black Friday (35% of the gross revenue on all orders) and use that money to improve the workers' recreational time," the online retailer notes on its website. 
For the first year, the company site noted, "our factory in Hangzhou was a natural choice." The money was used to build solar panels to power the on-campus apartments where workers live, Everlane founder and CEO Michael Preysman told Fast Company.
"This year," a representative for Everlane told Mic, "we are taking the fund stateside and donating all profits to our tee factory in Los Angeles — our goal is to raise $110,650. Proceeds will go towards a wellness initiative that will include doctor visits, a vision clinic and a subsidized healthy food program in partnership with Thrive Market." 
"It's a way for us to be open and available for our customers while I think reinforcing the values that we stand for," Preysman said.
Shoppers have responded. "We have seen an extremely positive reaction from our customers sharing the Black Friday Fund on social [media] and through sales on that day," a representative for Everlane said. "Since we never discount our products, we were so excited to see that our customers' were excited to give back and directly see the impact they are having on our factories."
A changing Black Friday tide: The move fits Everlane's identity as an ethical, responsible and "radically transparent" company, one that discloses to consumers not only where clothing was made but also why the item costs as much as it does. The company even includes the current time and weather in cities where their factories are located. 
But the Black Friday Fund also fits the overall shift in sentiment regarding Black Friday, with both shoppers and retailers taking a more critical look at the holiday-ruining shopping extravaganza. After years of expanding hours to even include Thanksgiving Day, more stores are closing up shop on Thursday. REI is closing on Black Friday, saying that it will shut all 143 of its stores and instead encourage shoppers and its employees to #OptOutside.
Even if you do choose to stay indoors, Black Friday doesn't need to overtake your day. Just hit the Internet — maybe some of the sites you click on will be doing something good.
h/t Racked