Richard Dawkins Compares 'Clock Boy' Ahmed Mohamed to ISIS Child Executioner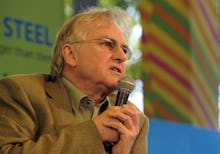 Months after the arrest of 14-year-old student Ahmed Mohamed in Irving, Texas for bringing a homemade clock to school resulted in widespread public outcry and a White House invite from President Barack Obama, outspoken New Atheist leader and evolutionary biologist Richard Dawkins is still trying to prove the kid is nothing more than a crappy inventor who could have been a terrorist.
Responding to news that Mohamed's family is seeking $15 million from the city of Irving for civil rights violations, Dawkins rehashed allegations the clock in question was just an alarm clock disassembled to resemble a suitcase explosive, and a deliberate bomb hoax.
In another tweet, Dawkins took issue with the "only a kid" sentiment, linking to an article about the ISIS child executioner shown beheading a victim. 
Dawkins then posted in defense of his original tweets, saying he was bewildered anyone could possibly think his comparison between Mohamed and a child soldier was actually a comparison between Mohamed and a child soldier.
It's far from the first time critics have claimed Mohamed simply took apart a factory-made clock, made it look like a bomb and then played the politically correct card in his defense. As the Daily Beast reported in September, several tech bloggers and YouTube contributors alleged the fake clock could have only been intended to scare people.
But to many others, the issue at hand has less to do with the sophistication of Mohamed's clock and more with the possibility that he is the victim of Islamophobic discrimination. 
In an interview with the Dallas Morning News back in September, Mohamed explained why the incident — which included him getting handcuffed and interrogated by police who allegedly withheld his right to have a parent or lawyer present — was so humiliating.
On Twitter, several users responded by saying Dawkins had thrown his lot in with Islamophobic bullies.
h/t CNN