These Are Some of the Best Online Cyber Monday 2015 Deals on the Internet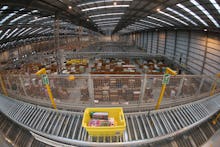 Monday marks Cyber Monday, the annual online shopping spree that's historically one of the largest sales days in the United States. Following Black Friday, when consumers bust down doors across the country to get to the best deals, Cyber Monday is typically a quieter spree where consumers shop online via desktop and mobile devices. Here are some of the best Cyber Monday deals from top retailers, as advertised on social media. 
Vail Ski Resort in Vail, Colorado, is jumping on board with Cyber Monday discounts this year, offering 50% off lodging for a ski retreat until Dec. 1.
PlayStation is offering 10% off any game during Cyber Monday. Click below to find the code. 
Motorola is offering the 64GB Moto X for $300 and the second generation Moto G for $100.
BareMinerals is giving away a free collection of beauty products with a purchase of $75 or more. 
Shoppers can find Air Jordan 1 Highs for $160 during Cyber Monday.
For those who can't wait for the day of online shopping to begin, Wal-Mart will begin its online discounts on Sunday.
For a day built around online shopping, e-commerce giant Amazon is a natural destination for Cyber Monday shoppers looking for discounts. According to Tech Times, here are some of Amazon's biggest Cyber Monday offers:
- Amazon Echo: $149
Though some retail analysts say Cyber Monday and Black Friday are lessening in importance as deals get stretched out for days, or in some cases weeks, new data from comScore predicts an uptick in e-commerce this year. 
Consumers browsing and shopping on mobile devices will generate more than $10 billion in sales during the months of November and December, comScore reported. According to their findings, desktop shoppers last year spent more than $53 billion in the United States but this year, ComScore estimates desktop shoppers will spend more than $58 billion shopping online, and that overall e-commerce in November and December will grow by 14% year-over-year to hit roughly $ 70 billion. 
"That whole narrative of Black Friday not existing anymore, that's just not true," comScore's vice president of marketing Andrew Lipsman said, according to MediaPost. "What gets ignored is that just because promotions are happening earlier doesn't mean consumers are shifting spending earlier."
And in a press release, executive chairman emeritus of comScore Gian Fulgoni stressed the importance that mobile commerce will have on lifting overall sales during this year's Cyber Monday.
"We expect Cyber Monday — the first Monday after the Thanksgiving Holiday weekend — to surpass $3 billion in online sales and become the heaviest online spending day in history for the sixth straight year, with roughly half a billion of those dollars coming from mobile devices," Fulgoni said.