These Are the Best Cyber Monday 2015 Deals to Get Online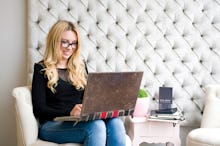 For anyone hoping to avoid the crowds on Black Friday, fear not: There are a slew of savings that can be found from the comfort of your own home, all while nursing that precious food baby from the third helping of a Thanksgiving feast. Online stores and nationwide chains from Target to Wal-Mart are offering a variety of deals and discounts on Cyber Monday.
Here are some of the best Cyber Monday deals hitting e-shelves across the United States on Monday, as well as throughout the week:
Amazon: Amazon is offering new low prices and deals on many of its electronics, home appliances and more. The store is also serving up daily deals in lieu of the kickoff to the holiday shopping season in a campaign called "12 Days of Deals." Customers can visit Amazon's Cyber Monday page for more information.
Target: Target is offering discounts on all purchases made through its online store on Monday. Customers can enter the code "Cyber15" when checking out to receive a 15% discount.
Wal-Mart: Wal-Mart has an extensive Cyber Monday deal it's calling "Cyber Week," with deals stretching long after Thanksgiving night. Special discounts and savings can be had for any purchases made through Friday, Dec. 4.
Ashford: Ashford is cutting the price tags of its brand-name watches by $30 for all purchases over $270. Customers can enter the code "AFF30" to receive the discount at checkout.
J.C. Penney: J.C. Penney has daily deals up until Wednesday, offering upwards of 20% off on merchandise with the code "VIP43." The site is also providing free shipping on any orders purchased that cost more than $49.
Dolce Vita Shoes: Dolce Vita Shoes is giving shoe-lovers another reason to shop following its day of savings on Black Friday, with the exact discount being applied to its Cyber Monday sale. Customers can enter the promotional code "CYBER20" to receive 20% off their sale merchandise made through the site Monday.
American Eagle Outfitters: American Eagle Outfitters is offering a number of deals to its customers in anticipation of the holiday season. The retail chain's online site is offering free shipping on any orders from the store's new Holiday Collection, available through Jan. 1, 2016.
Best Buy: Best Buy has its own "Cyber Week" extending for seven days, with special savings on Cyber Monday. The store is offering its discounts primarily through its online site, though the company says many deals can also be found at store locations across the United States. Customers can also sign up on Bestbuy.com for Cyber Monday's deal of the day.
Asos: Asos, the European online clothing store, is offering up to 70% off much of its apparel, which is already marked with considerably low price tags. The site is offering a variety of deals, along with discounts on popular items before and after both holidays.
Kohl's: Kohl's customers will receive 15% off all purchases made on Cyber Monday, both in-store and online.