Rapper Vic Mensa Clashed With Chicago Police During Protests Over Laquan McDonald's Murder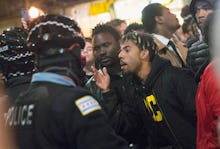 In October 2014, Chicago police shot and killed 17-year-old black teenager Laquan McDonald. On Tuesday, more than a year later, the man behind the gun, Officer Jason Van Dyke, was charged with first-degree murder. As part of the ruling, the judge ordered the video of Van Dyke shooting McDonald 16 times be released to the public. The disturbing incident the video contained brought out hundreds to protest in Chicago's streets. 
Standing with them was a Chicagoan with one of the city's biggest vocal platforms: rapper Vic Mensa. 
Mensa signed to Jay Z's Roc Nation in April and has worked closely with Kanye West on several tracks and appeared with him during West's Saturday Night Live performance of "Wolves" in February.
In a tweet shared by poet, organizer and educator Malcolm London, Mensa discusses what brought him to join the protests. "We out in downtown Chicago right now," he says in the video. "I just got hands put on me by police. We want justice for Laquan and we want justice for our people."
Mensa later clarified in a tweet what he meant by "got hands put on me by police."
CBS News posted its video of the clash he's likely referring to. Surrounded by people shouting "Let him go! Let him go!" Mensa's characteristic blond-tipped dreads can be seen weaving through the crowd. Late in the night, Mensa tweeted he's reportedly safe and not in police custody.
Mensa was not the only Chicago rapper who lent his voice to the protest. Chance the Rapper sent two tweets encouraging his city not to lose faith.
Mick Jenkins, an up-and-coming Chicago rapper, retweeted a video from London encouraging protesters to view this incident as yet another example of the systematic shortcomings in our nation's policing.
Elsewhere, a video caught recorded protesters chanting Kendrick Lamar's "Alright," which is becoming the unofficial protest anthem of 2015.