Two Films Were Made About the Rape and Murder of Delhi Woman Jyoti Singh — One Was Banned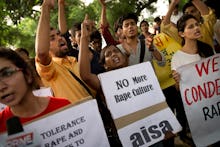 Editor's note: This story contains graphic descriptions of rape and assault. 
On December 16, 2012 — three years ago this week — Jyoti Singh, 23, and her friend Avanindra Pandey were on their way home from seeing a movie in Delhi when they boarded what they thought was a charter bus. Instead they were confronted by six males who proceeded to beat Pandey and, one after another, brutally rape Singh, all the while driving the bus around. At one point one of the attackers used a rusty pole to penetrate her, pulling her intestines out in the process. When they were finished, the rapists dumped the battered bodies on the side of the road.
Singh was flown to Singapore for treatment; 13 days after the assault, she died from her injuries. Pandey survived.
The incident sparked national outrage, rioting and a media frenzy. Never before had India been gripped by such fury over sexual violence against women. Indeed, until Singh's death, such acts were accepted as the status quo. 
Two documentaries have since been made about that night, detailing Singh's murder and zooming out on the rape crisis that plagues the subcontinent. One of these, Daughters of Mother India, by Indian director Vibha Bakshi, was celebrated by the country, winning a National Film Award and screening at prestigious events. The other film, India's Daughter, by British director Leslee Udwin, was banned.
Mic spoke with both directors in an effort to understand what about the works caused the people of India to embrace one film and shun the other, and whether or not those reasons spoke to a larger issue.
"When I was making the film, I did not go with an agenda," said Bakshi. "The only thing we were very, very clear [about] was that if this momentum is lost, we have everything to lose, because we're the stakeholders here. So, we were saying, we will make a responsible film."
But Bakshi, a journalist by trade who leverages that background to make films with a social activism bent, and Udwin, a former actress and producer who made her directorial debut with India's Daughter, have clashing notions of what defines responsible work. Says Udwin, "There are other documentaries which purport to deal with the same issue — take, for example, Daughters of Mother India — which I believe was a political move on the part of the Indian government. There is a large component of propaganda."
As it happens, the government granted Bakshi access to the strongly fortified Delhi Police control and command room. This was primarily, Udwin contends, because Bakshi's film was not overtly critical of the police force, painting it in a rather more favorable light.
Bakshi takes a different stance. "[The police] are not the bad guys. I have no opinions on them. They are human beings like us. And I think that [attitude] changed the whole way the film worked."
Many of those who took to the streets following Singh's murder, however, would strongly disagree. Indian police have been loudly criticized for not taking sexual violence seriously enough, and in some cases even inciting it. In June 2014, for instance, a woman in Lucknow accused four police officers of gang raping her in their local station when she would not pay a bribe in exchange for her jailed husband's release.
Udwin remains one of the most vocal critics of India's police. 
"What's unique or distinctive about India's Daughter is that it is shocking and enraging and it presents the brutal truth in a completely untrammeled way," she says of her film, which gave screen time to one of the rapists and his lawyer. (Of the six men involved in the attack on Singh and her friend, one hung himself in jail, four received the death penalty and the last, who was 17 at the time of the crime, received three years in a juvenile detention center.)
"It examines how mindset informs the problems in a way that comes directly from the participants involved — the perpetrator and their lawyers — it holds up a mirror," Udwin said. "The society is speaking for itself."
For her part, Bakshi said she had no interest in interviewing the rapists for her film, "Personally, [I didn't want to] because I was looking for the people who were making the change happen." She said she saw more value in capitalizing on the momentum and the positive components that emerged from the tragedy. 
"I am a woman, I am a global citizen, I am a woman who's been raped and I believe I have a responsibility to look at this issue."
While Udwin's film will not formally get an audience in India, the filmmaker has found support in Hollywood. But it is not only Bakshi who takes issue with Udwin's process, or the content of India's Daughter. 
Singh's friend Pandey told media he thought her take was "insensitive," and called its veracity into question. Other opponents say the documentary presents rape as an issue specific to India, rather than a worldwide ill, and that the very act of making the film perpetuates the notion of a "white savior," the New Yorker's Andrea Denhoed reported. 
"I think that did play a part," Udwin said of the film's prohibition. "But what that amounts to is shoot the messenger so it can detract from the message. I would argue that's misguided and counterproductive — in fact, I would say that's idiotic, because I am a woman, I am a global citizen, I am a woman who's been raped and I believe I have a responsibility to look at this issue."
According to the National Crime Records Bureau, nearly 100 women are raped in India everyday, and the number has been steadily rising. However, given the shame associated with sexual violence and a culture of suppression, the numbers are likely much higher than that.
And while some ground has been gained on the matter of gender-based violence, through sensitivity training for police or lobbying for legislation, for example, there is a great deal more work to be done. 
So, however the message gets out — and whoever it is delivering it — it's one everyone needs to hear.
Trailers for both films can be viewed below:
Get the five stories that will challenge you to rethink the world by signing up for MicCheck Daily.