These Are the Top Cyber Monday Picks and Deals From Amazon, Target, Wal-Mart and Macy's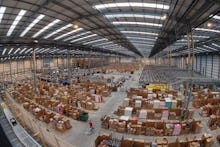 Cyber Monday, a day that's hailed along with Black Friday as one of America's largest-grossing annual retail events, is days away. This year, the online shopping spree falls on Nov. 30, though many of the largest retailers in the United States are extending discounts beyond what was once an online-only day of discounts. Four of the biggest retailers in the U.S. — Amazon, Target, Wal-Mart and Macy's — are all offering numerous discounts this year. 
Here's a roundup of some of the best Cyber Monday picks and deals from major retailers:
Amazon
According to Tech Times, Amazon will be offering no shortage of discounts during this year's Cyber Monday. Consumers can expect to find: 
- Amazon Echo for $149 
- $30 off the Kindle
- Paperwhite e-reader for $99.99 
- $35 off the Sony SmartBand 2
- $40 off Motorola's Moto 360 smartwatch 
- 30% off the Mira Wellness and Activity Bracelet
- $100 off select models of Samsung LED TVs 
- $100 off Philips noise-canceling headphones
Target
Target's hoping to lure shoppers in this year by offering consumers a 15% discount on all merchandise on its website with the promo code CYBER15.
"We're making Target.com a not-to-be-missed destination for deal-seekers on Cyber Monday and throughout Cyber Week," said Jason Goldberger, president of Target.com and Mobile, in a press release. "We're confident holiday shoppers who are looking to quickly and conveniently check items off their lists won't want to miss Target's deep discounts as well as free shipping and returns on Target.com." 
Among the biggest offers at Target on Nov. 30 are: 
- Xbox One 500GB console bundled with an EA Sports game for $299.99
- 50% off kids cameras
- 50% off Sennheiser headphones
- Swagway x1 Hands-Free Smart Hoverboard for $399
Target will also offer a number of more general deals during Cyber Monday, including 30% off all shoes and apparel, 30% of a number of toys, 20% off all KitchenAid appliances and 25% off all Dyson vacuums. 
Wal-Mart
Wal-Mart is offering consumers a number of deals this Cyber Monday, and the big-box store is even planning to kick off its online sales beginning on Sunday. Shoppers at Wal-Mart will find: 
- Samsung's 48-inch 4K Ultra HD TV for $597.99
- Xbox One plus a bonus controller for $299.96 
- Beats by Dr. Dre Drenched Solo On-Ear Headphones for $99 
- LG's BP155 wired Blu-ray player for $47.99
- Adele's 25 on vinyl for $21
Macy's
Macy's will also offer consumers the chance to start shopping early and will run Cyber Monday sales from Sunday through Monday. "Cyber Monday gives customers the ability to buy instantly and take advantage of incredible savings at their leisure from their home or mobile devices," said Macy's CMO Martine Reardon in a press release.
Cyber Monday shoppers at Macy's can expect to find:
- 40% discounts on select footwear for women
- 60% off select coats for women
- 60% to 70% off select mens outerwear
- 60% off certain dresses
- 20% to 30% off select kitchen appliances
- Buy one get one free deals on select bras and women's boots 
- 65% off certain 14-karat gold chains
- 60% off Charter Club cashmere