Watch This Chicago Protester Flawlessly Explain Why Police Shootings Warrant Such Outrage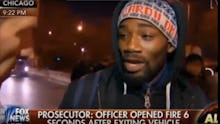 As national media continues to descend on Chicago amid protests over the death of 17-year-old Laquan McDonald, one familiar voice has injected himself into the fray.
In an exchange captured by the network, Fox News reporter Mike Tobin asked demonstrator Brendan Glover about his choice to protest. Apparently unmoved by Glover's measured response, Sean Hannity cut in from his New York studio.
"There have been 818 murders in Chicago from 2014 through November 2015. We've had 4,224 people shot, shooting incidents in Chicago in that timeframe. Ask him if he can name one person who was shot or one person who was killed," Hannity challenged. 
Tobin relayed Hannity's question, adding qualifiers, "Gang violence, black on black violence, other than Tyshawn Lee [the 9-year-old Chicago boy killed on Nov. 2], can you name anyone?"
But instead of dropping names, Glover explained that one need not know a victim personally to feel personally affronted. 
"I go basically by what I see on the news," he said. "This situation strikes home to me with Laquan because that could have been me, my little brother, one of my friends. And the fact that we don't feel safe with the police around, they're here to serve and protect. And the fact that I don't feel safe around police, it's disturbing."
Tobin then asked, "Why is there not the outrage when there's black-on-black violence?
Without missing a beat, Glover responded, "Because crime is going to happen, wherever you go. Crime happens. And the people that are here to serve and protect are a part of that problem. So it becomes a problem when you can't even call 911 and feel like you're safe to protect you from people that are committing crimes. That's the point I'm trying to make."
Protests ripped through Chicago on Tuesday night as residents continued to digest video of a city police officer gunning down an unarmed black teenager as he walked down the street. McDonald died after being shot 16 times by officer Jason Van Dyke in October 2014. The footage shows that Van Dyke continued shooting even after McDonald was on the ground. 
On Tuesday, Van Dyke was charged with first-degree murder. In April, the city of Chicago reached a $5 million settlement with the McDonald family. The funds were in addition to the roughly $5.5 million awarded by Chicago to the approximately 100 families who were victimized during the reign of notorious Chicago Police Department chief Jon Burge.
McDonald's death is one of the more high-profile out of dozens of similar shootings that have happened around the country in recent years. In some cases, the police violence has been excruciatingly documented in body camera footage or by bystanders. In April, Walter Scott, a 50-year-old man pulled over for a broken tail light in North Charleston, South Carolina, ended up being shot in the back as he ran from officer Michael Slagar. Slagar was later charged with first-degree murder. Other stories, such as that of 12-year-old Tamir Rice, killed for having a toy gun, or Freddie Gray who died under suspicious circumstances while in the custody of Baltimore police, have also made national news.