The Upcoming Janis Joplin Biopic 'Little Girl Blue' Will Show the World Why She's a Legend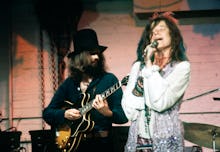 As one of the founding members of the 27 Club, it's easy to write off Janis Joplin's life as a tragedy waiting to happen. Joplin's struggles with drugs and alcohol were well known. She died with a needle in her arm in a Los Angeles motel in 1970 just as she was hitting her stride creatively and vocally. She never got to enjoy the success of her most iconic song and album, "Me and Bobby McGee" off her posthumous quadruple platinum Pearl. 
However, none of this comes close to describing all Joplin was as an artist and a person. Little Girl Blue, a new documentary covering Joplin's rise, takes an extremely balanced approach to Joplin's story. It focuses primarily on the aspects of her life that would eventually make her untimely death so hard to stomach: her ferocious voice, her warmth she showed to friends and fans, her daring fashion sense. The film puts these talents take center stage, in a way many of the years' other big-name biopics — Kurt Cobain's Montage of Heck and Amy Winehouse's Amy — did not.
It lifts her story out of the realm of the tragic victim of fame to make even the most devout Joplin fan look at her in an entirely new light.
Director Amy Berg, whose previous films include 2006's Deliver Us from Evil and 2014's An Open Secret, began working on the project in 2007. She was given complete access to Joplin's estate, unearthing never-before-seen footage and personal correspondences, which appear alongside interviews with Joplin's friends, family and lovers. 
They reveal a deeply complex portrait of the artist: a woman constantly fighting to find common ground between her artistic, professional and sexual selves. The film puts Joplin's process of translating that struggle into her raw, yearning music under the microscope, or — in keeping with the preferred instruments of the time — the kaleidoscope.
"She loved who she was onstage and she loved performing," Berg told Mic in a recent interview. "That's very obvious from everything I've seen. But I also think that she didn't know that she didn't know how to find comfort in herself as a woman and a rock star."
Joplin's internal battles with fame make up a large part of the film's narrative. However, they don't dominate the frame the same way they do in the recent Winehouse documentary, Amy, which keeps its audience viewing Winehouse through the paparazzi's lens much of the time.
Berg avoided seeing Amy until she was completely done with her own film so as not to cross the streams. When she did see it, Berg said she "felt uncomfortable." 
"It wasn't a celebration of her music," Berg said. "It was about the ticking time bomb we were watching so voyeuristically."
For better or for worse, it's a common narrative female artists' stories fall into, and while Berg admires the way Asif Kapadia's film passed a critical lens over paparazzi culture and the destructive influences of fame, Berg's mission with Little Girl Blue was different.
"The legacy of female artists, especially in the 27 Club, is that of the 'needle in the arm in the hotel room, the woman left lonely.'" Berg said. "That's what Janis' legacy, I think, before I made this film — not saying it's going to have this huge impact — but that's how I would always heard about it, and I felt that was completely unfair, and I think it is because she's a woman. She's not celebrated for her music, artistry and power. She's remembered for the tragic ending. I think there's a huge crossover with Amy in that realm."
Even though Joplin passed back on the brim of the psychedelic '70s, Berg sees her story as the starting point of a modern narrative.
"Without Janis Joplin we wouldn't have had half of the conversations we've had in the past 45 years," Berg said. "Her music feels as relevant today as it did back then for some strange reason. It's so current, so relevant, so passionate. She allowed women to be honest and vulnerable and sexy and ballsy and all the things that define us today in a positive way."
Little Girl Blue includes interviews with Pink and Melissa Etheridge, who both see themselves as pushing forward Joplin's legacy in carving out a more inclusive place for women in music. However, Joplin's legacy carries far beyond music. 
"We're looking at the potential of having a female president," Berg said. "And we're talking about the inequity of female actress and female directors. Janis is a part of those conversations because she's still in your face."
Watch the trailer for Little Girl Blue below and catch its opening Friday in New York.