Black Friday Toy Deals 2015: 'Star Wars,' Legos and Barbie Dolls Galore!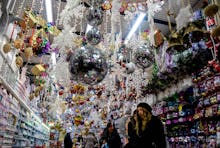 The holiday spirit is kicking back in, as Thanksgiving approaches along with the shopping chaos of Black Friday and Cyber Monday. As stores nationwide expand hours and cut price tags, parents and kids will hunt for the best deals on holiday gifts. 
Here's where to find Legos, Star Wars and Barbie toys on Black Friday 2015:
Legos: Amazon is allowing parents to order the latest Lego sets from the comfort of their homes at a fraction of their typical prices during its week of daily deals surrounding the kickoff to the holiday shopping season. A Lego Creator 31010 Treehouse costs just $29.99 during the sale, as well as a Lego Minecraft 21114 The Farm set for $23.99, among other deals.
Star Wars: Star Wars toys can be found at a fraction of their typical prices this year at a number of locations — may the force be with you. Kohl's is offering a blanket discount of 50% off all toys during its Black Friday sale, which begins when the department chain opens its doors at 6 p.m. on Thanksgiving in most locations. Amazon is also offering a variety of discounts on Star Wars toys, including the Darth Vader electronic Lightsaber. Target and Toys R Us will also be selling Star Wars related gear and toys at a discount on Black Friday.
Barbie Dolls: Amazon is offering an entire selection of Barbie toys as part of its Holiday shopping deals, which features exclusive discounts on a variety of seasonal gifts and items. The greatest deals are awarded to Amazon's most loyal customers, as Amazon Prime subscribers are given even further discounts in their selection. Some Barbie dolls have prices cut by as much as 25%, while the Power Wheels Barbie Jammin Jeep Wrangler is on sale for just $207.40. A full size Barbie themed play house costs just $31.59.