Ohio Pizzeria Is Opening Its Doors to the Hungry for Thanksgiving Dinner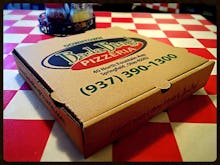 An Ohio pizzeria is gaining widespread praise after posting a note to Facebook inviting the hungry to come for Thanksgiving dinner.  
Like many American businesses, Bada Bing Pizzeria in Springfield, Ohio, is closed on Thanksgiving. But a sign on its door invites anyone in need to join a feast at the restaurant on Thanksgiving. "We will be closed on Thanksgiving Day," the sign reads. "However, we will be having dinner around 2 p.m. with our family, employees and friends. If you are hungry or don't have any money, please come in. We will welcome you and make sure you get plenty to eat." 
The sign has earned thousands of "likes" since it was posted to Facebook on Tuesday.
"I love what you're doing tomorrow," one Facebook user wrote on the pizzeria's Facebook page. "Thanks for being my reason to not give up on humanity today."
"I have never heard of this place, but I will make the drive to patronize this business, for this sign alone," another wrote. 
"The response from the community is overwhelming," shop owner Jason Hague told ABC 22. Hague said volunteers and vendors started reaching out wanting to help after seeing the Facebook post. Since the post has garnered so much attention, Hague told ABC 22 that he doesn't know what to expect. "It could be 15, maybe 20 people, or it could be 200 people, we don't know," he told the network.
"If we're able to feed even one hungry person, I'm fine with that," Hague added to ABC 22. "But if it turns out to be something more monumental, we'll think about doing something next year for sure."