The Redskins Just Tweeted a Thanksgiving Greeting — And Twitter Isn't Having It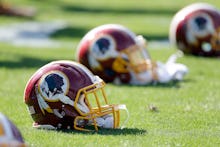 The NFL team that got six of its trademarks canceled in July for symbols that "'may disparage' Native Americans," according to the New York Times, just tweeted a Thanksgiving greeting featuring its Native American mascot. 
Twitter is not cool with it. 
Though the Redskins' logo is no longer protected by the U.S. Patent and Trademark Office, it's still legal for the team to use it — just not exclusively. The tweet has garnered numerous angry responses ranging from bashing the team's social media and public relations teams to urging the team to delete its account.
Earlier this month, Adidas announced that it would provide financial and design support to any high schools nationwide that are willing to change their Native American mascots. Approximately 2,000 of 27,000 U.S. high schools use symbolism that could be offensive to Native Americans, according to Adidas' press release. 
The Redskins have been under scrutiny for years. When the team's trademark was canceled, Jesse Witten, one of the attorneys for the Native Americans, told the Washington Post, "This is a huge victory. Getting this ruling from a U.S. District judge is a watershed event." 
Native American activist Blackhorse told the Washington Post that the case against the Redskins was about humanizing the Native American population. "This case is about humanizing the indigenous identity," she said. "I have asked this many times before and have never heard a sensible answer — if people wouldn't dare call a Native American a 'redskin' because they know it is offensive, how can an NFL football team have this name?"