Emergency Responders Investigate White Powder at the Grand Mosque in Brussels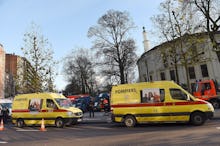 Emergency responders reported to the largest Islamic place of worship in Brussels, the Grand Mosque, on Thursday to investigate boxes of white powder. Multiple outlets later reported that police responders identified the powder as flour, not anthrax as feared. 
After receiving a call from an unnamed individual who discovered the powder at the Grand Mosque, the fire department deployed a crew of responders to the scene, located at Cinquantenaire Park, Reuters reports. About a dozen emergency vehicles arrived to the Grand Mosque, which is part of a cluster of buildings called the Islamic and Cultural Center of Belgium, not far from the European Commission.
Belgium, specifically Brussels, has been on "high alert" since the terrorist attacks that rocked Paris on Nov. 13. The coordinated attacks, for which the Islamic State Group, or ISIS, have claimed responsibility, lead to deadly raids and shootouts in Saint-Denis, a Parisian suburb, as authorities tracked and detained suspects in Brussels.
The Brussels arrests were made after authorities reportedly tracked suspect vehicles back to a neighborhood known as Molenbeek. The area is thought to be a hive for suspected terrorists, and has been linked to attackers involved in both the Madrid train bombings in 2004 and, more recently, the Charlie Hebdo attack in Paris.
During the weekend, Brussels went on lockdown after the Belgian capital city went into maximum security alert mode on Saturday in response to a potential terrorist attack. 
Meanwhile, in Berlin, the Associated Press reports police raided a mosque and arrested two individuals authorities suspected of belonging to an Islamic extremist group. Patricia Braemer, a spokeswoman for the Berlin police, told the AP that both suspects were arrested in Charlottenburg, located in the western part of the city, before police raided the mosque. 
Here's a series of photos that show emergency responders investigating the Grand Mosque in Brussels on Thursday: