President Putin Says Russia Is Ready to Join the US-Led Coalition Against ISIS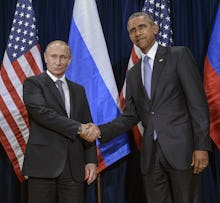 Russian President Vladimir Putin said Thursday that Russia will work with the United States and France to fight the Islamic State Group, or ISIS, by joining the American-spearheaded coalition dedicated to combating the terrorist group. The pledge came with the condition that Russian and American leaders would have to meet to discuss the downed Russian warplane, which Turkey is responsible for. Putin said he believed the U.S., a coalition ally with Turkey, should have prevented the downing of the plane. 
Speaking with French President François Hollande, Putin said the U.S. and Russia would need to have "serious consultations" concerning the warplane matter, according to the Associated Press.  Hollande agreed, calling the plane incident a "serious incident, obviously regrettable," though adding that the matter should be used to "strengthen the coordination between the countries," according to the AP.
Putin and Hollande met on Thursday, where the question of Russia's support for France in its fight against ISIS surfaced. Hollande, Obama and many other world leaders have expressed their commitment to fighting ISIS in the wake of the ISIS-led terror attacks that shook Paris on Nov. 13. 
Although Putin is ready to work with France, the U.S. and others in the united front against ISIS, the Russian leader insisted that the U.S. should have had a hand in preventing Turkey from gunning down the Russian Su-24 military plane. The incident happened on Tuesday, when Turkish military operations gunned down a Russian war jet that was flying near where Turkey boarders Syria. Russia claims it was a ground-to-air affront, while Turkey claims the incident was an air-to-air strike and that the Russian jet was violating its airspace. 
"We warned them to avoid entering Turkish airspace before they did, and we warned them many times," said a senior Turkish official of the incident, speaking to Reuters. "Our findings show clearly that Turkish airspace was violated multiple times. And they violated it knowingly."