Fashion Brand Accused of Ripping Off Indigenous Design From Inuit Family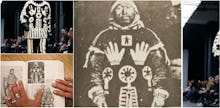 A European fashion label is in hot water after reportedly ripping off a sacred Inuit design. 
Kokon to Zai (KTZ), a London-based brand, was called out by Salome Awa, a local of the northern Canadian territory of Nunavut who also happens to be a morning show producer at CBC Nunavut. 
The design in question is an intricate print featuring two outspread hands with a smaller human figure in the middle. It popped up on a black sweater in KTZ's fall 2015 menswear collection.
Awa came across the sweater on her Facebook NewsFeed and recognized it immediately, she told BuzzFeed Canada.
The design was nearly identical to one made by her great-grandfather in the 1920s, she said. He was a shaman who created the design after having a vision that he was being drowned. 
"He wanted to make images of hands so when someone tried to drown him they would protect him," Awa told the CBC.
Images of Awa's great-grandfather and the traditional Inuit garment appeared in the book Northern Voices: Inuit Writings in English, the CBC reported.
The incident, which is being covered widely on Canadian news, earned KTZ negative backlash from customers. "Cultural appropriation of indigenous designs — neo-colonial bullshit! Taking from a people that have already had everything taken from them through mass genocide and colonialism," one commenter wrote. 
KTZ did not respond to Mic's request for comment, but it company did pull the sweater from the brand's website. It also issued an apology to Awa, who shared a portion of it online:
That specific sweater may be gone from KTZ's website, but there are plenty of other "Native"-looking designs on there. That kind of aesthetic has gotten fashion brands into trouble when the designs hew uncomfortably close to those from actual indigenous cultures. 
In June, French designer Isabel Marant was accused of using the embroidery designs found on traditional huipil blouses, created by the women of Santa Maria Tlahuitoltepec in Oaxaca, Mexico.
This isn't the first time KTZ has been accused of appropriating indigenous designs, either. In February, the label was accused of ripping of a design by designer Bethany Yellowtail of the Apsáalooke (Crow) and Northern Cheyenne tribes.
"The dress as stated on my website embodies a Crow design from my great great grandmother ... funny I didn't realize @ktz_official knew the Yellowtails or the Crow people," Yellowtail noted that time on Facebook.
Nov. 30, 2015, 8:59 a.m.: CBC has released the full apology letter from KTZ to Awa, which reads as follows: 
Dear Salome, 
h/t BuzzFeed