Donald Trump's Offensive Impression of a Disabled Reporter Is Pissing Off the Internet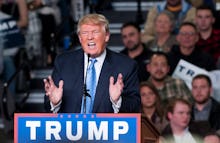 During a speech Tuesday in South Carolina, business tycoon and presidential hopeful Donald Trump did an impression of a disabled New York Times reporter that many are calling highly offensive. The journalist Trump mocked, Serge Kovaleski, now writes for the Times but in 2001 wrote a story for the Washington Post about the Sept. 11 terrorist attacks in the United States that Trump disagreed with. Many people were none too pleased with Trump's impression of the reporter. 
Trump's exact words, per the footage below, were: "Now the poor guy [Kovaleski], you ought to see the guy, 'Uh I don't know what I said. I don't remember,'" Trump told the crowd in South Carolina while making gestures with his arms that look like he's making fun of Kovaleski's disability. Kovaleski has arthrogryposis, a rare musculoskeletal disorder that restricts his arms' range of movement. 
"He's going, 'I don't remember. Maybe that's what I said," Trump said. According to Politico, a representative for the New York Times said, "We think it's outrageous that he would ridicule the appearance of one of our reporters." 
As the incident gained attention from the media, Trump defended his actions via Twitter claiming he didn't know Kovaleski "or what he looks like." According to Trump, he was "showing a person groveling to take back a statement made long ago."
But users on Twitter weren't buying Trump's claim that he didn't intend to belittle the journalist:  
Others pointed out that Trump has tread this ground before. In July, Trump made a remark about columnist Charles Krauthammer, who currently works for the Washington Post, has been critical of the Republican candidate and who is also paralyzed from the waist down. 
"I went out, I made a fortune, a big fortune, a tremendous fortune. ... Then I get called by a guy that can't buy a pair of pants, I get called names?" Trump told NBC's Katy Tur, according to Huffington Post, adding that Krauthammer was a "loser" who "just sits there."
Here's a link to the article Kovaleski wrote for the Washington Post on Sept. 18, 2001. 
Get the news everyone's talking about delivered straight to your inbox every morning by signing up for MicCheck Daily.