Oakland A's Pitcher Sean Doolittle Invited 17 Syrian Refugee Families to Thanksgiving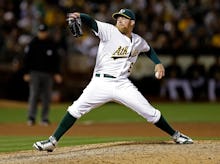 Thanksgiving is generally a time to ignore comments about your marital status from nosy relatives and pass out by 9 p.m. from consuming too much tryptophan. But for Oakland A's pitcher Sean Doolittle and his girlfriend Eireann Dolan, it was a time to get into the holiday spirit and truly give back to their community. 
The couple hosted a Thanksgiving dinner Wednesday night in Chicago for 17 Syrian refugee families, which was also attended by Chicago Mayor Rahm Emmanuel. Dolan posted photos of the gathering on Instagram.
"Chicago is so lucky to have 17 Syrian refugee families now officially calling it home," Dolan wrote in the caption. "We thought we'd officially welcome them with one of our greatest American traditions, Thanksgiving."
In a blog post on Nov. 18, Dolan wrote that she and Doolittle were inspired to host their Thanksgiving feast after reading news stories about states rejecting Syrian refugees. 
"If you're anything like me, you watched with shock and sadness as so many governors issued statements that they would be refusing any further Syrian refugees in their respective states," Dolan wrote in a blog post, adding that her home state of Illinois and Doolittle's home state of New Jersey had both refused to accept Syrian refugees.
On her Instagram bio, Dolan also included a link to a GoFundMe campaign to support the Syrian refugee families in Chicago. The campaign has raised more than $25,000 of its $50,000 goal.
In the wake of the Paris terrorist attacks, there's been mounting controversy over whether the United States should accept the hundreds of thousands of Syrian refugees fleeing civil war in their native country. In his Thanksgiving Day address, President Barack Obama, who has revealed a plan for the United States to accept 10,000 refugees, issued a call to Americans to welcome refugees, referring to them as modern-day "pilgrims." 
Yet this message has drawn criticism from right-wing politicians. So far, 31 governors, 30 of them Republican, have issued statements saying they will not accept Syrian refugees following the Paris attacks. "I will not stand complicit to a policy that places the citizens of Alabama in harm's way," Alabama Gov. Robert Bentley tweeted Nov. 15. "We refuse Syrian refugees."
By publicly welcoming Syrian refugees for Thanksgiving, Dolan and Doolittle hoped to combat the message of fear with one of love and support.
"Changing hearts and minds is not something that can be done from the "top down" — that is, you can't expect politicians or laws or military actions to change the way people view one another and how they act toward each other as a result," Dolan wrote.
"Hearts and minds are changed through small actions that we all have the ability to take every single day."
h/t NBC Sports