M.I.A. Releases New Music Video "Borders" and Puts a Spotlight on Europe's Refugee Crisis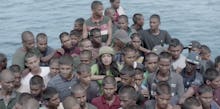 British pop star and political activist M.I.A. is back with a powerful new song and self-directed music video for "Borders," which dropped last week. The music video followed Friday, and it focuses on the tumultuous journey refugees around the world often must take to find a better life, a poignant narrative during a time when 1 in 2 Syrians have been uprooted from their homes amid the ongoing civil war.
Many have gone to extreme measures to reach Europe. "I want to dedicate this video to my Uncle Bala, my icon and role model," M.I.A. wrote on Twitter shortly after Friday's release. "One of the first Tamil migrant to come to the U.K. in the '60s who went to inspire so many people as a creative daring man with so much swag that everything I do doesn't even touch his sides. Thank you for helping my family come to England and taking us out of Sri Lanka and saving us."
"Borders" is off M.I.A.'s forthcoming Matahdatah, which doesn't yet have a release date, according to Rolling Stone. The video shows M.I.A. traveling with a group of refugees on a small boat, as well as refugees climbing barbed wire fences and marching through valleys in single-file lines. It's a strong message to the world about the European refugee crisis, as well as the initial responses of fear and heightened security from governments across the world, including the United States. 
The lyrics, though simple and catchy, are politically charged:
"Politics/ What's up with that?/ Police shots/ What's up with that?/ Identities  What's up with that?/ Your privilege/ What's up with that?/ Broke people/ What's up with that?/ Boat people/ What's up with that?"
"The world I talked about 10 years ago is still the same," M.I.A. wrote on Twitter. "That's why it's hard for me to say it again on a new LP." "Borders" is the latest in a consistent, globe-hopping theme M.I.A. has been creating for her forthcoming album. M.I.A. has also released "Swords" and "Warriors" off Matahdatah, shot in a temple in India and the Ivory Coast, respectively. 
"There's 10 more of these countries coming and I haven't chased where to go yet," M.I.A. told Rolling Stone about her latest album, and the inspiration she's received from around the world to put the album together. "Who knows where this project will take me."
An upswing in war, terror and conflict has caused an increased number of refugees to travel to Europe in search of resettlement, the BBC reported. An estimated 750,000 migrants have arrived in Europe this year alone. Many European countries are grappling with heightened tensions between migrants and citizens, as well as fears of security and even terrorism. 
Following the Nov. 13 terrorist attacks in Paris, the European refugee crisis has become a controversial topic even in the United States, with dozens of governors vowing to reject any Syrian refugees from resettling in their states out of fear they could be linked to the terrorist group ISIS. President Barack Obama has called on Americans to show compassion toward refugees.