6 Men Read Sexual Assault Survivors' Stories in Powerful Video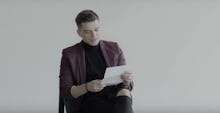 Even as issues relating to consent and sexual assault are seeing the light more and more, the uncomfortable truth is that many men won't fully understand the horrific impact of rape culture on women without experiencing it firsthand. 
In honor of Wednesday's International Day for the Elimination of Violence Against Women, Moterys Kalba (Women Speak), a Lithuanian women's rights group, released a powerful video to get men to confront the haunting reality of sexual assault and its impact on women's lives. 
For the video, #Musudaug (Lithuanian for "many of us"), Moterys Kalba asked women to contribute stories of sexual violence, eventually receiving 25 submissions. Six men were then asked to read the stories out loud on camera. The stories were placed in innocuous envelopes with childlike sketches on them, so the men didn't know what they were beforehand. 
The stories are all different, and they are all horrifying in their own ways.
Many of the stories also share a common theme. In most of the submissions (19 out of 25, according to the summary at the end of the video), the women knew their attackers, which tracks with most data on sexual assault: According to the Rape, Abuse and Incest National Network, based on statistics from the U.S. Department of Justice, approximately 82% of sexual assaults are committed by someone the victim knows.
By the end of the clip, the men are visibly shaken and moved. 
They also seem to emerge with a renewed understanding of the damage done by making light of sexual assault. 
"Sometimes comedians like to make jokes about pedophilia and other similar topics," one of the men says. "When you're joking, it seems like you're laughing at the fear. Laughing at that problem... maybe realizing that you don't have these problems makes you feel better. But these stories actually make you face the reality."
While it's worth noting that most men should probably reach that conclusion without having read personal accounts by survivors of sexual assault, the men featured in the video do seem like they've gained a new perspective as a result of having to confront these narratives head-on. 
The video ends with a powerful call to survivors to share their stories, as a way to bring about an end to the stigma and silence surrounding sexual assault. "In cities or province[s], regardless of social status or wealth, it happens everywhere," the video says. "Let's return the guilt and shame to those that really deserve it." 
You can watch the full video here. 
Editor's note: For more information about sexual assault, refer to the Rape, Abuse and Incest National Network. If you need to speak confidentially and securely about sexual assault, contact RAINN's free online helpline or the National Sexual Assault Hotline at 800-656-4673. 
h/t BoredPanda