Erykah Badu Mixtape 2015: Track List, Streaming and How to Download 'Caint Use My Phone'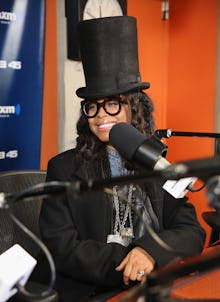 Erykah Badu released her highly anticipated mixtape But You Caint Use My Phone on Friday, featuring André 3000 and Drake, as well as her classic style and seamless integration of hip-hop and funk. Fans of the R&B vocalist have been patiently awaiting her latest musical project since 2010's New Amerykah Part Two: Return of the Ankh, and the mixtape delivers what they were hoping for. 
But You Caint Use My Phone is streaming exclusively on Apple Music. In an effort to promote the release, Badu revealed on Twitter the number to a secondary phone she was using was hidden in the mixtape's artwork, and if fans could crack the code, they'd get the chance to speak with her. "After u get that mixtape, call me on my burn out and let me know your fave." Badu tweeted Thursday night. "My number is hidden in these three covers."
But You Caint Use My Phone comprises 11 tracks, some upward of five minutes long, others 30 seconds to a minute. Below is the track list, via Apple Music:
1. "Caint Use My Phone (Suite)"
2. "Hi"
3. "Cel U Lar Device"
4. "Phone Down"
5. "U Use to Call Me"
6. "Mr. Telephone Man"
7. "U Don't Have to Call"
8. "Medley: What's Yo Phone Number / Telephone (Ghost of Screw Mix)"
9. "Dial'Afreaq"
10. "I'll Call U Back"
11. "Hello"
According to Badu, the mixtape follows her being inspired by Drake. "What inspired me to do the mixtape was me doing a cover of 'Hotline Bling,'" Badu told The Real on Wednesday. "I played it at a party everyone was like, 'Yeah.' So I decided to keep the theme going, and call it 'But You Caint Use My Phone.'"
Source: Soundcloud