Chicago Protesters Take Over Michigan Ave. on Black Friday over Laquan McDonald Shooting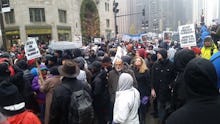 Protesters gathered for a "peaceful protest" on the north side of Chicago along Michigan Avenue on Black Friday after a 2014 dash-cam video of a Chicago police officer murdering 17-year-old Laquan McDonald was released Tuesday. 
"There will be a lot of different kinds of people here. We're calling for peaceful protests." The Rev. Marshall Hatch, chairman of the Leaders Network of Chicago, told local station WLS. "But the reality is we don't know all of the different groups that will show up today. But certainly, we're encouraging people to be peaceful." 
Protesters gathered on Chicago's "Magnificent Mile," one of the city's busiest shopping districts, in what Hatch told WLS is a way to "project the pain they're feeling on the rest of the city" in light of the video, which shows Chicago police Officer Jason Van Dyke shooting McDonald 16 times in 15 seconds. 
Videos and images posted to social media show protesters blocking traffic and entrances to shopping centers, joining in chants like "Hell no, you can't shop. Sixteen shots." Boston Globe reporter Astead Wesley, on the scene covering the marches, tweeted that traffic resumed and protesters cleared the streets at roughly 2 p.m. Eastern.
In a statement Thursday to WLS, the Magnificent Mile Association granted its support for the march. "We respect the American freedom to assemble and the process in the pursuit of social justice," the statement reads "We hope that any assembly on Friday will continue to be peaceful."
Hatch told WLS that the protests call for a change in the Chicago criminal justice system. "Without some disruption, there is not going to be any change," he said. "I think that people are very much interested in sending the message that now is the time for change in Chicago."
Van Dyke was charged with first-degree murder of McDonald; an autopsy confirmed McDonald had been shot 16 times. Chicago protesters want Chicago police Supt. Garry McCarthy to step down and Cook County State's Attorney Anita Alvarez to resign and allow a special prosecutor to handle the case. "McCarthy needs to go," Hatch told WLS. "We need a fresh start in the Chicago Police Department."