Here's Chrissy Teigen's Response to Friday's Planned Parenthood Shooting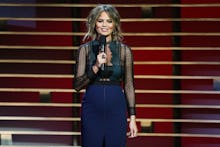 After a shooting Friday at a Planned Parenthood in Colorado Springs, Colorado, injuring three officers, model Chrissy Teigen tweeted that she and her husband John Legend made a donation to the women's health organization. 
"Every time shit like this happens, John and I immediately make another donation to Planned Parenthood," Teigen tweeted. Two acts of arson were also committed at Planned Parenthood locations recently — one in Washington and another in California — and according to Teigen's tweet, she and Legend make a donation every time. 
In September, police confirmed a fire at a Planned Parenthood in Pullman, Washington, was arson. A fire at a Planned Parenthood in Thousand Oaks, California, on Sept. 30 was arson as well. The attacks followed criticism from Republicans and conservative media outlets after a series of videos released in August appeared to show Planned Parenthood personnel discussing the sale of fetal tissue. However, it quickly became clear the footage had been cut and edited to misrepresent the discussion as part of an attack against the organization.
Teigen has become an activist after speaking out on behalf of female issues multiple times. In an interview in April on The Meredith Vieira Show, Teigen said she stopped editing her Instagram photos because "We've forgotten what normal people look like now," and "the standard is so ridiculous." The interview came after her stretch marks went viral when she Instagrammed a photo of them with the caption "stretchies say hi!" 
Correction: Nov. 28, 2015