Kendrick Lamar and J. Cole Drop Twin 'Black Friday' Tracks— Listen to Both Here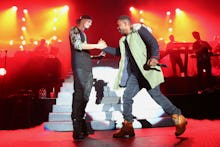 Kendrick Lamar is back at it again. Out of nowhere, the hottest rapper in hip-hop dropped a track Friday called 'Black Friday.' The song is to the beat from J.Cole's 'A Tale of 2 Citiez' from his 2014 album 2014 Forest Hillz Drive.
J.Cole, returned the favor by dropping a track Friday also called 'Black Friday." The song uses Lamar's track 'Alright' from his critically acclaimed album To Pimp a Butterfly. Each artist tweeted out the link to the others track to show support. 
It is no surprise these two artists decided to team up for a Black Friday surprise. It's long been rumored that the pair were working on a joint album together called Reminiscing. In September the alleged cover art for the album did the rounds online, but there's been no information on it since. These two tracks will definitely have the internet buzzing again. 
Take a listen to both via Soundcloud. 
Source: Soundcloud
Source: Soundcloud