The One Difference Between Democrat and GOP Responses to the Planned Parenthood Shooting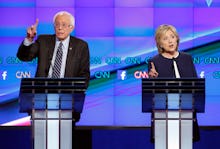 After a gunman opened fire at a Planned Parenthood in Colorado Springs, Colorado, on Friday, three people were confirmed dead — including one police officer — and many more injured. In the wake of the attack, people tweeted messages of grief, hope and solidarity to Colorado Springs. People who utilized Planned Parenthood, those who believe in the nonprofit's mission (including model Chrissy Teigen) and many prominent politicians joined in the outpouring of messages. Except, that is, 13 of the 14 Republican presidential candidates. 
After the attack, all three Democratic presidential candidates shared messages of support to Planned Parenthood. 
The first tweet to appear was former from Secretary of State Hillary Clinton at 5:36 p.m. on Friday, Nov. 27. 
Vermont Sen. Bernie Sanders showed support for those in Colorado Springs late Friday night, as well. 
By Saturday morning, former Maryland Gov. Martin O'Malley had also sent a message of solidarity to the people in Colorado. 
On Saturday, President Obama released a statement on the attacks, saying "This is not normal. We can't let it become normal."
As of press time, only one Republican candidate, Texas Sen. Ted Cruz, has issued a statement on Friday's shooting. However, his tweet made no specific mention of Planned Parenthood and instead focused on those who were killed, their families and the first responders. 
As recently as August, Cruz had led a rally in opposition to Planned Parenthood. His campaign website has a whole page dedicated to defunding the organization. 
While Cruz at least mentioned the shooting, since Friday morning most GOP candidates have only tweeted boilerplate campaign videos, attacked Obama's foreign policy or hawked Black Friday campaign deals on sunglasses and cold weather bundles. After an incident in which he seemed to be mocking a reporter with disabilities, Donald Trump spent his time on Twitter reminding followers that he's spent more money than anyone in America helping people living with disabilities.