4chan Tentatively Linked to Shooting at Black Lives Matter Rally in Minneapolis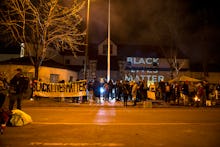 A group of masked men opened fire at a Minneapolis-area Black Lives Matter protest, injuring five people at the Nov. 23 protest, which was triggered by the death of 24-year-old black man Jamar Clark.
Now, the New York Times reports four suspects are in custody: "Allen Lawrence Scarsella, 23; Nathan Gustavsson, 21; Daniel Macey, 26; and Joseph Backman, 27." All four are white men and, according to the Times, they appear to have used the online message board 4chan to meet up.
Two of the suspects, who posted on 4chan under the usernames SaigaMarine and BlackPowerRanger, were seen on video several nights before the shooting brandishing firearms, using ethnic slurs and telling watchers to "stay white." They had repeatedly visited the protests before the night of the shootings.
Posts by SaigaMarine and BlackPowerRanger referred to race war, criticized the Black Lives Matter movement and also used racial slurs, the Times reports. In another video, SaigaMarine says "It's boiling, man. It's going to happen soon. We're here to watch the fire rise."
It is unclear which of the men arrested used which usernames. However, witnesses confirmed the men seen in the videos are the same ones who shot at demonstrators.
Black Lives Matter spokeswoman Misky Noor told media "what happened last night was a planned hate crime and an act of terrorism." Noor said after the masked men arrived on Nov. 23, organizers asked them to take off their masks or leave; the men were being escorted off the premises when they decided to open fire.
4chan is one of the largest anonymous bulletin boards on the English-language web. Certain subforums have garnered a very bad reputation on the Internet  for fostering communities of internet trolls, and parts of the site are loosely moderated at best.
The Time's report references one board, 4chan's /k/, which is used to discuss firearms. Another board mentioned in the videos, /pol/, stands for Politically Incorrect, not politics.
A recent article in New York noted that while discussion on /pol/ is "jeering and ironic in the manner of all anonymous online discussion," users "are racist and hateful on /pol/ not for attention or reaction, but because they are ... it's safe to say that /pol/ is where the most serious and committed racists on 4chan tend to congregate."