The Director of 'Gods of Egypt' Just Apologized for the Movie's All-White Cast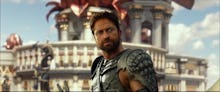 Alex Proyas, director of the upcoming fantasy epic Gods of Egypt, as well as entertainment company Lionsgate Entertainment, are apologizing for casting a nearly all-white ensemble including Gerard Butler, Geoffrey Rush and Nikolaj Coster-Waldau to portray ancient Egyptians.
In a set of statements released to Forbes, both the director and the distributor apologized for the casting and called for greater diversity in Hollywood.
Proyas told Forbes that the process of casting a film has many "complicated variables" and said it was "clear that our casting choices should have been more diverse. I sincerely apologize to those who are offended by the decisions we made." 
Lionsgate made a similar statement. 
"We recognize that it is our responsibility to help ensure that casting decisions reflect the diversity and culture of the time periods portrayed," Lionsgate told Forbes. "In this instance we failed to live up to our own standards of sensitivity and diversity, for which we sincerely apologize. Lionsgate is deeply committed to making films that reflect the diversity of our audiences. We have, can and will continue to do better."
The two statements were not enough for some, who tweeted memes in response to the statements. 
However, Selma director Ava DuVernay noted the statements as rare mea culpas for a common problem. 
She also took a moment to applaud films that did showcase diverse casting, including the new J.J. Abrams-directed Star Wars film. The trailer for Star Wars: The Force Awakens also faced a backlash from people who did not like seeing black actor John Boyega as a black stormtrooper. 
A trailer for Gods of Egypt released in early November began a flurry of tweets criticizing the movie's decidedly non-diverse casting choices, which appears to have extended to the film's choice in extras.
Gods of Egypt is not the first movie this past year to deal with claims of inaccurate racial casting. Pan, a retelling of J.M. Barrie's Peter Pan, cast white actress Rooney Mara play Tiger Lily, a Native American princess. Roland Emmerich's Stonewall caught heat for centering its narrative on a young, white fictional character. Three countries even went so far as to ban Ridley Scott's Exodus: Gods and Kings for casting Christian Bale as Moses. 
Gods of Egypt is due in theaters in February.