6 Actual Acts of Terrorism That Occurred While Everyone Was Panicking About Refugees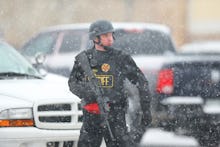 In the wake of a gun and bomb rampage in Paris on Nov. 13 that left at least 130 dead and wounded over 350 others, Republicans and some Democrats have decided to attempt to shut down the Obama administration's ongoing refugee program that resettles the displaced from war zones to the U.S.
Thirty-one governors — 30 Republicans, one Democrat — across the country have refused to accept the refugees, insisting they pose an unacceptable security risk. Many of those migrants are fleeing the Islamic State group, the terrorist organization that committed the attacks in Paris.
But in the meantime, homegrown domestic extremists across the United States have been doing a pretty good job of terrorizing their fellow citizens with guns, explosives and threats of large-scale attacks. It's part of an alarming trend of growing right-wing extremism across the United States, with data from the New America Foundation showing such extremists have killed nearly twice as many Americans as self-proclaimed jihadists since the Sept. 11, 2001, terrorist attacks.
What's the real threat to the U.S.? Here's a partial sampling of all the horrible things that have gone down while anyone turning on the news could hear someone arguing that Syrian refugees pose the biggest existential threat to public safety the country faces today.
Mass shooting at Planned Parenthood clinic in Colorado
Three people died and nine more were hospitalized after a man opened fire at a Planned Parenthood clinic in Colorado Springs on Nov. 27, launching an hours-long gun battle with police.
Authorities eventually arrested 57-year-old Robert L. Dear for the gun rampage, which left one police officer and two civilians dead. According to the New York Times, the gunman focused on the clinic during the shooting but also shot at people in the parking lot and nearby stores.
"While the shooter's motives have yet to come to be released, what we do know is that this is not the first violent attack waged at a Planned Parenthood facility, and it likely won't be the last," Mic's Ellie Krupnick writes. "Mass shootings at Planned Parenthood and other reproductive health clinics might not be common, but violence and harassment are."
Since a series of heavily edited videos purporting to show Planned Parenthood staffers discussing the illegal sale of fetal organs was released online, violence directed at the nonprofit's facilities and staff has increased, with arsonists setting four Planned Parenthood clinics nationwide on fire.
Armed protesters intimidate mosque in Irving, Texas
About a dozen men armed with rifles and shotguns stood outside the peaceful Islamic Center of Irving in Texas on Nov. 21, holding banners that said they were the "solution to Islamic terrorism."
Group spokesman David Wright seemingly admitted part of the protest's point was to intimidate the Muslims worshiping there. He told the Dallas Morning News the weaponry was "mostly for self-defense or protection. But I'm not going to lie. We do want to show force. We're not sitting ducks."
For its part, the mosque had already condemned the terrorist attacks in Paris.
 "I doubt that they'd be happy if some of the Muslim churchgoers here showed up at their Christian church, their Baptist church, their Methodist church tomorrow morning with rifles slung over their shoulders," city councilman David Palmer told the Dallas Morning News.
Bomb hoax at Dar Al-Hijrah Islamic Center in Virginia
The Fairfax County Police Department arrested 27-year-old Chester H. Gore after he planted a fake bomb at Dar Al-Hijrah mosque in Falls Church, Virginia, on Nov. 19, according to the Falls Church News-Press.
Gore threw Molotov cocktails into the mosque's parking lot, say members of the mosque.
Officer Roger Henriquez told the paper, "It's enough that it would lead a reasonable person to believe, given the location of where he was, given the time, he was there at three in the morning ... what he said ... It would lead you to believe that this guy is doing this because we are of this religious denomination or ethnicity or combination of both."
Five arrested in plot to bomb black churches and synagogues
FBI agents arrested two alleged white supremacists in Virginia on Nov. 8 in connection to what authorities said was a plot to bomb black churches and synagogues.
CNN reports the suspects, Robert Curtis Doyle and Ronald Beasley Chaney III, were arrested after they attempted to purchase firearms and explosives from an undercover FBI agent. They planned to commit a series of robberies in preparation for the planned attacks as well.
Three others were also arrested. According to the Richmond Times-Dispatch, Doyle and Chaney also have extensive criminal backgrounds.
Mosque shot at in Connecticut
Someone shot a gun at Baitul Aman Mosque in Meriden, Connecticut, hours after news of the attacks in Paris broke on Nov. 13.
The Hartford Courant reported police found four bullets in the mosque, including one which had "pierced both exterior walls and an interior partition."
"The picture is getting increasingly bleak," Ibrahim Hooper, spokesman for the Council on American-Islamic Relations, told the Associated Press. "There's been an accumulation of anti-Islamic rhetoric in our lives and that I think has triggered these overt acts of violence and vandalism."
Alleged white supremacists shoot five at Black Lives Matter rally in Minneapolis
Five people were shot, including one in the stomach, in Minneapolis on Nov. 23 after a group of masked men who had been harassing Black Lives Matter rallies over the fatal police shooting of 24-year-old black man Jamar Clark were being escorted away from protesters.
Two of the men posted on the message board 4chan before the incident about a brewing "race war" and uploaded videos in which they claimed to be "here to watch the fire rise." They also used racial epithets and urged viewers to "stay white," according to the New York Times.