Porn Actress Stoya Has Publicly Accused Her Ex James Deen of Sexual Assault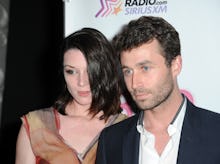 On Nov. 28, adult performer Stoya posted two tweets alleging that her ex-boyfriend, fellow adult performer James Deen, had sexually assaulted her while they were in a relationship. 
After dating for a few years and becoming known as the "Jay Z and Beyoncé" of the porn world, Deen (who has previously collaborated with Mic) and Stoya broke up in 2014, according to an interview Deen did with the Daily Beast. 
The allegations prompted an outpouring of shocked responses on Twitter, particularly among fans of Deen, who has publicly touted his feminist credentials. The actor has also been referred to as the "boy next door" of the porn world, due to his wholesome good looks and goofy, nonthreatening demeanor. 
Many have come forward to express support for Stoya with the hashtag #solidaritywithStoya. 
Amelia McDonell-Parry, editor-in-chief of the women's website the Frisky, also publicly tweeted her support for Stoya. McDonell-Parry wrote that Deen, who writes a sex column for the Frisky, would no longer be welcome to contribute to the site.
Alt porn actress Joanna Angel, who dated Deen until 2010, has also posted a message of support for Stoya on Twitter.
On Sunday, Deen responded to Stoya's allegations on Twitter.
Two other adult performers have since come forward to accuse Deen of assault. In an essay for the Daily Beast published on Monday, performer Tori Lux alleged that Deen physically assaulted her after she refused to "sniff [his] testicles."
"My goal in writing this is not to paint the industry as a whole as oppressive or dangerous, but to shed some light on one fucked up personal experience of mine, in which James Deen ruthlessly attacked and degraded me, leaving me with mental wounds that took years to heal," Lux wrote.
Neither Stoya nor Deen have responded to Mic's requests for comment. 
Nov. 30, 11:57 a.m. This story has been updated.