Colorado Planned Parenthood Shooter Was Politically Motivated — Here's What We Know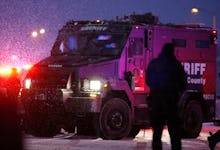 "No more baby parts."
That's what Robert L. Dear, the man who killed three and wounded nine others at a Planned Parenthood clinic on Friday in Colorado Springs, Colorado, told police following the attack, according to NBC News.
If true, the remark clears any questions about Dear's motivation. The comment is apparently a reference to selectively edited videos released earlier this year by an anti-abortion group billing itself as the Center for Medical Progress.
The films purportedly show Planned Parenthood officials discussing the illegal sale of fetal organs, leading to a major political controversy and Republican threats of a government shutdown. Subsequent investigations have found no evidence the nonprofit did anything but accept legal reimbursements for donations of fetal tissue to research organization.
But as more information becomes available about Dear's past, a picture emerges of a man who may not have been particularly skeptical of the details surrounding the Planned Parenthood controversy.
Those who knew Dear describe him as an odd loner who sometimes displayed frightening behavior.
Ex-wife Pamela Ross told the New York Times Dear sometimes had a temper; she once called the police on him after a 1997 domestic violence incident. While she said he was conservative, abortion was "never really a topic of discussion. It never, ever, ever, ever crossed my mind" that he was capable of such violence.
However, novelist Leland Davis told the Times he was stalked by Dear in Swannanoa, North Carolina, after telling the authorities Dear had mistreated a dog.
"I think I would have thought he was a guy who would go on a rampage," Davis told the paper. "We were very, very wary."
Others who had known Dear in 2002 in Walterboro, South Carolina, complained about disconcerting behavior, including spying on neighbors, threats and a dog being shot at with a pellet gun, according to the Times.
"If you talked to him, nothing with him was very cognitive," James Russell, a neighbor in Black Mountain, North Carolina, told the Associated Press. Another neighbor from Black Mountain, John Hood, said Dear advised him to put a metal roof on his house to avoid government spying.
According to the Post & Courier, Dear handed out anti-Obama pamphlets to neighbors.
Dear is due in court on Monday.
Get the news everyone's talking about delivered straight to your inbox every morning by signing up for MicCheck Daily.