Russia's 'Maxim' Just Published a List of the Only Gays They Actually "Respect"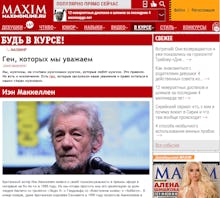 In a recent post titled "Gays We Respect," Russia's version of men's magazine Maxim has "forgiven" certain gay men for their sexual orientation — but only if they've earned it.
The magazine wrote, "We, men, do not consider men who love men to be men. This is the rule. But there are exceptions. There are gays who have earned our respect and the right to remain real men in our eyes," BuzzFeed reports.
Among the gays that are apparently worthy of the same respect the magazine's editors treat straight men with are celebrities like Sir Ian McKellen, Stephen Fry, Chuck Palahniuk and Neil Patrick Harris. Also posthumously listed are celebrities such as Oscar Wilde and Freddie Mercury.
According to BuzzFeed, the magazine wrote Mercury won their acceptance by bringing "us so much joy, we are ready to forgive him anything." Fry is cited as evidence of "the living embodiment of the idea that one can be openly gay and a sensible person at the same time."
A spokesman for the U.S. version of Maxim told BuzzFeed they were "deeply disturbed by the article in Maxim Russia and fully condemn it." However, Russia's Maxim is owned by a different company.
While the article seems predicated on the notion that most gay men are subhuman, it is unclear whether its limited praise for some other gay men would be seen as illegal under a 2013 federal law banning gay "propaganda."
It's unlikely, seeing as the law is only selectively enforced. However, Russian drag artist Yulianna Prosvirnina told Al-Jazeera it has effectively legalized persecution by anti-gay vigilantes, including a group of hooded men who crashed an LGBT-themed party she threw in Moscow and beat everyone inside who did not hide. A 2014 Human Rights Watch report accused the Russian government of deliberately ignoring a dramatic rise in hate crimes against LGBT people throughout the country in recent years.
The law also correlated with a rise in public anti-gay sentiment throughout Russia. The Moscow Times reports state-run polling company VTsIOM found support for the legalization of gay marriage in Russia has declined from 14% in 2005 to just 8% in 2015.