Many College Students Face a Major Obstacle Over Break, But Nobody Is Talking About It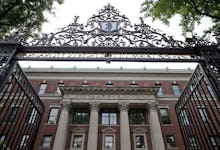 For most college students, the holiday break signifies refuge — a welcome opportunity for rest and comfort after a stressful semester. But not all students anticipate the opportunity to exchange their dorm rooms for their childhood bedrooms. School vacations pose a particularly impossible conundrum for students who — for reasons personal, financial or both — can't return home and are forced to either pay a fee to remain in student housing or who are barred from doing so altogether. 
It's a problem students at Barnard College in New York City recently targeted in their own community. A group of students pushed back on the administration's increasingly stringent standards for qualifying for housing over break and successfully convinced them to eliminate any fees for housing altogether. While they were successful, however, the issue is one that inarguably extends beyond their campus and points to a problem plenty of financially disadvantaged or housing-insecure students face at colleges across the country.
The Barnard case. "Barnard, like most other small residential liberal arts colleges across the country, is closed over winter break," Anna O'Sullivan, Barnard College Director of Media Relations, told Mic in an email. "However, it has always been our policy to grant exceptions for students truly in need of housing over the break, and that did not change this year."
In the past, Barnard College has charged $400 for students to remain in their dorms over break. While subsidies were made available for students who demonstrated need, this fee was recently compounded by increasingly stringent standards that outlined whether students were eligible for this option at all. Last year, the college announced that only students with "mission critical" roles — such as admissions tour guides and competing athletes — were eligible to even pay this fee and stay in the dorms over break, due to factors such as the college's financial constraints and concerns about staff's vacation days, the Columbia Spectator reported in October. These increasingly stringent measures were part of a plan to potentially phase out winter break housing altogether, Dean of the College Avis Hinkson told the Columbia Spectator. 
While break housing may not affect a huge quantity of students, the effect on those who need it, but find themselves restricted from it, is one of "great magnitude" and "severity," Barnard sophomore Toni Airaksinen, a first-generation college student from a low-income background, told Mic. Airaksinen led an effort that included launching a Change.org petition with a co-organizer as well as posting and handing out fliers about the predicament on campus and at faculty gatherings.
"Some of our fellow students have been forced to return to abusive households, to sleep in ... campus buildings, in Riverside Park, and in homeless shelters," Airaksinen wrote in the petition, which also demanded that the administration acknowledge their homeless and housing-insecure students, and provide affordable or subsidized winter housing and funding for all students able to demonstrate need.
"Students deserve safe and intrinsically stable housing," the co-organizers concluded. 
And this is exactly what they ended up receiving. 
"We remain committed, now as always, to helping our students deal with the hardships that may confront them during their time at Barnard," Barnard President Debora Spar wrote in an email sent to the Barnard community on Nov. 23. While procedures had always been in place to work with housing-insecure students, Spar added, this year, "unlike last year's policy, there will be no fee for winter break housing."
A bigger problem. But while Barnard students' efforts were successful and the administration responsive, inaccessible housing over break is an issue on campuses across the country — and one that has hardly warranted a universal approach. Some campuses still shut down their dorms completely over breaks, others remain open and fully functional, and others still function somewhere in between, according to Allan Blattner, president of the Board of Directors of the Association of College and University Housing Officers — International. But even this shifting standard is a recent improvement. 
"The norm used to be colleges and universities closed for breaks," Blattner told Mic. Over the past 10 years or so, however, "housing-insecure students and people who can't, don't want to or [feel] unsafe [going] 'home'" are vocalizing their concerns "louder than we've heard in the past," he said. Now, more than ever, students are "meeting and asking for a different approach, and I think campuses have had a variety of responses to that," Blattner added.
Their demands reflect a dire reality: Many low-income students on campuses across the country are incapable of returning home for break, due to being incapable of paying fees required to travel home or being financially or otherwise obligated to continue working at a local job in order to continue attending school at all. Those same students may also be incapable of paying fees — like the $400 fee Barnard College once charged — to stay on campus.
Of course, financial insecurity isn't the only reason students may feel prohibited from going home. Plenty of personal reasons — from abusive family members to being disowned based on one's gender identity or sexual identity and beyond — effectively render students homeless as well.
"My mom isn't letting me come back home for Christmas because I came out as gay while I was here," one Barnard first-year wrote on the Tumblr website Columbia Class Confessions. "I haven't really made any friends here yet and I don't know who to ask [to house me]."
And, of course, students who come from homeless backgrounds are also at a loss. FAFSA reports that 58,000 college students are homeless nationwide, AOL reports.
"Last year, I spent part of my winter break sleeping outside on campus, and I know that I don't want to face the same experience again this year," Jessica McCormick, a former Aquinas College student who grew up an "unaccompanied homeless youth," wrote in a Change.org petition two years ago.
Faced with homelessness, students are often forced to make unsafe housing choices out of dire necessity.
"I ended up meeting someone on a dating site who took me in, offered me housing," another Barnard student anonymously wrote on Columbia Class Confessions. "I was manipulated into a situation where I was told that I either had sex with him, or got thrown to the streets."
"You can get put in a lot of dangerous situations," Airaksinen said.
And this situation is perhaps more common than one might expect. Airaksinen's own roommate considered joining Seeking Arrangement, a website that facilitates financially motivated relationships primarily between "sugar daddies" and young women, to find housing over the school's month-long winter break, she told Mic.
Looking toward solutions. Of course, colleges do not close their dorms purely to inhibit their students' well-being, but must balance concerns of their own. A variety of "safety and financial concerns" factor into colleges' decisions, Blattner pointed out, as do situationally specific constraints and available resources, like costs associated with keeping services running: For example, a large, urban, well-resourced campus will likely face a vastly different decision process regarding this matter than would a small, budget-constrained, rural campus.
To be sure, plenty of campuses are going above and beyond to address housing-insecure students' needs. Barnard College's revised policy, for example, as well as Columbia University's longstanding unrestricted free access to dorms over break serve this population well, as does UNC Charlotte's policy of including fees required to keep housing open during breaks in their overall tuition, Blattner noted. 
Ultimately, Blattner said, transparency is key. No matter what decision a campus makes, he concluded, "they need to make [it] in conjunction with their students in a really transparent way."
Editor's note: Julie Zeilinger is an alumnae of Barnard College.