Here's Everything We Know About the Victims Murdered at Planned Parenthood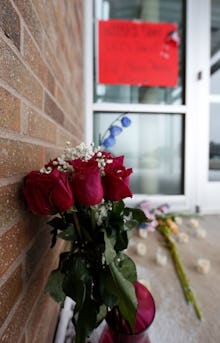 Each of the three victims killed during a shooting rampage at a Planned Parenthood clinic in Colorado Springs, Colorado, on Friday have now been identified. Their names are Jennifer Markovsky, Garrett Swasey and Ke'Arre M. Stewart.
Authorities have arrested 57-year-old Robert L. Dear after an hours-long gun battle with police. Official sources told NBC News the shooting was likely politically motivated and related to Planned Parenthood's abortion services, as Dear told officers "no more baby parts" after he was arrested.
Here's what we know about the three people murdered on Friday.
Jennifer Markovsky
A 36-year-old mother of two originally from Hawaii, the Denver Post reported on Sunday that Markovsky was accompanying a friend to the Planned Parenthood clinic when the gunman opened fire. 
"I couldn't believe it," her father, John Ah-King, told the paper. "I just messaged her Thursday to say happy Thanksgiving."
The sister of her husband Paul Miller, Julia Miller, told the Post "She's just a really sweet woman that would do anything for everyone ... [Paul is] struggling dealing with the children and everything. It's hard to let them know that their mother is gone."
Garrett Swasey
Officer Garrett Swasey, 44, a member of the University of Colorado at Colorado Springs police force, was killed responding to alerts of an active shooter at the clinic. According to NBC News, "Swasey was a six-year veteran of the University of Colorado at Colorado Springs police force and an elder at Hope Chapel — as well as an accomplished former U.S. figure skater."
"He might not be in alignment with the abortion industry, but he'd be willing to go in and lay down his life for those people, and that's just the testimony to me of the kind of man that he is. Not just courageous, but Christlike," church co-pastor Scott Dontanville told CNN. "He would want us to forgive this man (the gunman) and to go on with our lives."
Victims of the shooting were honored during a memorial service on Sunday at the chapel where Swasey was an elder.
Ke'Arre M. Stewart
Also killed in the shooting was U.S. Army veteran Ke'Arre M. Stewart, a married father who served during the Iraq War, CBS Denver reports.
Stewart was outside the clinic attempting to obtain cell service when the shooter opened fire. According to CBS Denver, Stewart was shot but managed to enter the Planned Parenthood facility before the gunman; he instructed those inside to take shelter and contact 911.
The Washington Post describes Stewart as "an entrepreneur, a DJ and a devoted father."