President Obama Makes Surprise Visit at Bataclan in Paris Before Heading to COP21 Summit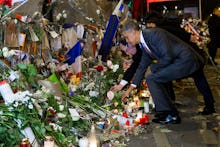 President Barack Obama paid his respects for the lives lost in the deadly Paris terror attacks on Nov. 13 during a midnight tribute Monday. The commander in chief laid a single white rose at the ground of a makeshift memorial established right outside of the Bataclan concert hall, where over 100 were held hostage and 90 killed by terrorists of the Islamic State group, otherwise known as ISIS.
"We've seen an outrageous attempt to terrorize innocent civilians," Obama said in a press conference immediately following the attacks. "This is a heartbreaking situation." The president also offered his nation's support for France, vowing to do "whatever it takes to work with the French people and nations around the world to bring these terrorists to justice."
Obama arrived immediately after landing in Paris for the United Nations' COP21 climate summit, meeting Paris Mayor Anne Hidalgo and French President Francois Hollande at the site of the attacks near midnight, according to CNN. The three leaders each laid a rose at the foot of the memorial, standing for a moment to pay their respects as well as survey the vast landscape of bright flowers and interwoven French flags, along with powerful messages from loved ones commemorating the victims of the deadly siege on the Bataclan. 
Though Obama wasn't the first world leader to pay his respects for the fallen at the Bataclan, his security was likely some of the toughest. France24 reports world leaders from Britain, Canada and Chile have all visited the Bataclan since Nov. 13 to mourn for the victims, as well as the rock band U2. Security was ramped up in the outlying area and an entire boulevard was secluded to the president's motorcade, which arrived at the Bataclan in silence, driving to the site after Obama's Air Force One landed at the Orly Airport, according to CNN. 
The president is currently in France for the COP21 summit, where he will meet with at least 146 other world leaders, as a total of 195 countries will be negotiating a deal over the two-week conference aiming to lower global carbon emissions and ultimately mitigate the threat of global warming by limiting it to a mere 3.6 degree change in average temperatures, according to the BBC. 
"I came here personally to say the United States not only recognizes the problem but is committed to do something about it," Obama told delegates at the summit on Monday, BBC reports. Security throughout Paris has been heightened in recent weeks, with an even greater increase in police presence in preparation for the U.N.'s COP21 summit. 
Below are photos from President Obama's visit to the Bataclan concert hall: