Glitter Pits Are the Internet's Latest "Trend" to Celebrate Your Body... With Sparkles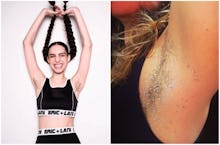 Another day, another "trend" that combines the Internet's love for glitter and body hair. We know about the Internet's fascination with dyed armpit hair. We know about glitter beards. And we know about glitter roots, too. 
So, naturally, the latest amalgamation of all these recent Internet fads is — drumroll please — "glitter pits." That's right, ladies and gentlemen, it's time to set the web ablaze with your sparkly armpits. 
OK, so maybe glittery armpits aren't a "trend" on the level of Stan Smith sneakers or boyfriend jeans. The pictures that have recently caught the Internet's attention aren't necessarily new, nor do most women seem to be sporting this look on the reg. In fact, this resurgence (if you can call it that) comes at a time when people love glitter: the holidays. 
But beyond holiday tinsel, the sentiment behind #glitterpits actually makes some sort of sense.
Back in December, one of the foremothers of Free Your Pits Movement, Roxie Hunt, told Mic that dyed armpit hair was really all about "a way to encourage women to make conscious choices about their bodies [and] experiment with their personal sense of style, and to start a conversation about normalizing the concept of the natural hair that grows on women's bodies."
Much like dyeing armpit hair, putting glitter in your armpit hair is about body ownership and embracing one's own natural hair — everywhere.
It's body positivism in a fairly bizarre way, for sure, but it's hard to argue with. Blame Miley Cyrus all you want, but these people want to show off their grown-out armpit hair that society has been quick to shame in a bold new way, and that's pretty cool. 
It might be a little strange to see this Instagram "trend" go mainstream (you wouldn't wanna see your Nanna rocking this look at Christmas Eve dinner, would you?) but, really, there are worse things you could do with your body and glitter. 
So why not? Why not have your armpits match the tinsel hanging from the branches of your Christmas tree? Why not, after you slip off a chunky ugly holiday sweater, have something even more festive underneath? As long as you're ready and able to deal with the terror that is cleaning up glitter, feel free to shine on.