Kendrick Lamar and J. Cole Drop New Songs "Black Friday" Ahead of Rumored Joint Album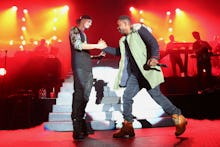 After rappers Kendrick Lamar and J. Cole dropped alleged album artwork for a rumored joint record titled Reminiscing in September, a collaboration the pair first teased in 2011, they traded beats for surprise tracks called "Black Friday." In J. Cole's rap, he intensified the anticipation around Reminiscing by hinting that an album could finally drop in February.
The two surprise tracks, released Friday, feature Lamar rapping to the beat of J. Cole's "A Tale of 2 Citiez" and J. Cole rapping over Lamar's "Alright." Both rappers freestyle about the old fame and fortune, but J. Cole ends his with a suggestive rhyme that has fans psyched. 
"When you and K. Dot's shit drop," J. Cole raps in the last verse. "Bitch never, they can't handle two black niggas this clever/ But this February, bet shit get scary when I fuck around and drop..." That's when the track cuts.
Both tracks are titled "Black Friday" and were available to stream on SoundCloud.
Source: SoundCloud
Source: Soundcloud
Some fans were convinced that J. Cole had confirmed the release date for the collaborative album in his "Black Friday," while other fans are geeking out at the possibility of new J. Cole music. 
In September, an ambiguous album cover was released that featured the two rappers and the title Reminiscing, leading many fans to believe the rappers would soon release a collaborative album with that title under the music label Dreamville Records. A photo of the two working in the studio together in 2012 sparked more long-lasting rumors that the two had something in the works. 
Later in 2012, Lamar said the possible album would be a complete surprise. "We gon' drop that out [of] the sky though, I ain't gon' give no dates or no nothing. Just gon' let it fall," he told the LA Leakers. 
No further details have been confirmed. 
Correction: Nov. 30, 2015