What Is COP21? A Guide to This Week's United Nations Climate Change Conference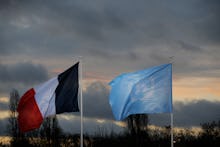 World leaders gathered on Monday in Le Bourget, France for the 21st annual United Nations Conference on Climate Change. The yearly summit, which is open to any nation seeking to battle climate change and which 150 heads of state will attend this year, will run through December 11. COP21 falls at a particularly critical tipping point, as the conference seeks to reach legal agreements, contributions and commitments from nations and non-governmental stakeholders to keep global warming below 2 degrees Celsius.
Per the Intergovernmental Panel on Climate Change, global warming above 2 degrees Celsius could lead to increased environmental impacts on the world at large, among them an uptick in weather change. The yearly summit aims to limit climate change to no more than 2 degrees Celsius by the year 2100. 
"This Conference is a crucial event, because it needs to result in a new international climate agreement, applicable to all countries. The agreement will need to be universal and sustainable," reads a COP21 press release. "It will need to send economic and political signals to make the economic development model shift to a new path, which needs to lead to carbon neutrality by the end of the century and compliance with the goal of keeping global warming below the 2 degrees Celsius ceiling."
Briefly, per Agence France-Presse, 1992's Earth Summit in Rio de Janeiro paved the way for "green diplomacy" and helped spur the creation of the United Nations Framework Convention on Climate Change. In 1997 the heads of state inked the Kyoto Protocol, which spurred collaborating and binding efforts to combat climate change. The Conference of Parties to the Convention (COP) has gathered each year since 1995 to collaborate on reducing the emissions that exacerbate climate change. Here's a short explainer on global climate change negotiations via AFP. 
Diplomats convened in the Parisian suburb, which is located north east of the capital city and just east of Saint-Denis, the neighborhood that fell pray to violent raids to capture suspects involved in the Nov. 13 terror attacks in Paris. The brutal assault that erupted across Paris, for which the Islamic State Group, or ISIS, claimed responsibility, also make it a particularly key time for diplomacy to overtake France. On Monday, President Barack Obama visited one of the sites of the attacks, the Bataclan concert hall, where 90 concertgoers were gunned down by attackers. 
For a more detailed résumé of the building blocks and history behind this annual summit, head to the explainer page via the United Nation's Conference on Climate Change. Here's a series of photos capturing the beginnings of the conference, world leaders on the ground and of the scene in Le Bourget.