Erykah Badu Threw Some Devestating Shade at Iggy Azalea at the Soul Train Music Awards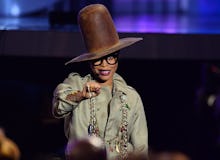 Hot off the release of her stellar But You Caint Use My Phone mixtape, cellular guru Erykah Badu hosted BET's 2015 Soul Train Music Awards on Sunday. In contrast to to the network's BET Awards, the Soul Train awards focus on R&B and soul music. Badu toyed with this little fact and used it to throw some epic shade at rapper Iggy Azalea.
In her monologue, Badu claimed her earthy, "crochet pants"-wearing, New Age mystic philosophies have gotten her kicked out of all the hip-hop award shows — and she, in turn, was going to kick all rappers out of this one. She pretended to get calls Andre 3000 and Young Thug, punning that no one with a "Lil" or a "Young" in their name would get in. However, when she got a call from Iggy Azalea, she reassured the white Australian rapper she could attend. 
"No, no, no, you can come," Badu said. "'Cause what you're doing is definitely not rap."
The audience burst into shocked applause.
Azalea has been hip-hop's favorite punching bag ever since the breakout summer she enjoyed in 2014. She broke records, snagged Grammy nominations and extremely flattering headlines — one particularly ripe one from Forbes that claimed "Hip-Hop Is Run by a White, Blonde, Australian Woman." (They later changed it.)
It all blew up in Azalea's face when rappers like Azealia Banks began to call out her success as appropriating black music but not speaking out on black issues.
Badu's digs at the Soul Train Music Awards are the latest in this line of backlash, with the singer calling the record-breaking music Azalea's been making non-rap. In that, she seems to agree with hip-hop legend Q-Tip, who schooled Azalea with a hip-hop history lesson last December. "Hip-hop is fun," he said. "But one thing it can never detach itself from is being a sociopolitical movement."
The world will have to wait and see if Azalea responds. Until then, Twitter's imagination will fill the void.