Amazon's Drone Delivery System Is Almost Here — This Is What It Looks Like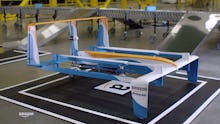 When we first heard the news that Amazon wanted to fill the sky with self-driving delivery drones, we thought the sky would be filled with aerial corridors of little buzzing helicopters. Our thinking was too narrow.
Amazon unveiled video footage of a new kind of delivery drone in action — fortuitously in time to remind you that Monday is an Amazon-designed holiday for buying things on the Internet — and it's a far cry from the kind of drones they've tested so far.
Where most drones used by photographers, drone racers and hobbyists are quadcopters, Amazon's new drone is designed more like a plane/helicopter hybrid, meant to take off vertically with propellers to "nearly 400 feet." It can then fly for up to 15 miles at high speeds. This kind of dual-mode of design has been the long-held goal of both the military and anyone trying to design the future of flying cars.
In Amazon's mock-up footage, the drone scans the ground looking for a drop-off point, but Amazon has already patented a system that would track an individual's location to bring you a package wherever you are, privacy concerns be damned. 
These aren't meant to replace the quadcopters Amazon has already unveiled, but will be the next model in what Amazon calls a "family of drones." In the same way Amazon's factories have used robotics to wean themselves off of human sorters and warehouse workers, a fleet of Amazon drones could sever Amazon's dependance on third-party delivery systems like UPS and the U.S. Postal Service.
Unless, of course, the government has anything to say about it. U.S. airspace is heavily regulated, and the Federal Aviation Administration has spent years dragging its feet creating drone regulations, and the draft they have in place says that a drone has to be within its pilot's line of sight — an obvious sticking point for Amazon, which wants the drones to fly for miles without any human pilot at all.
Until then, Amazon has been testing its delivery drones overseas in countries like India, where the local governments haven't stood in the way. Watch Amazon's commercial for their latest drone here: