The Eiffel Tower Is Glowing Green With Digital Trees — Here's Why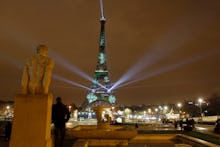 The Eiffel Tower, Paris's grand, 1,063-foot-tall crown jewel, typically sports a golden hue at night. On Sunday night, however, the monument glowed green with the light of thousands of virtual trees.
The color change is part of an art installation called 1 Heart 1 Tree. The brainchild of artist Naziha Mestaoui, the project was unveiled on Sunday night to draw attention to reforestation and climate change efforts. It also served as the kickoff to COP21, a massive climate conference attended by world leaders like President Barack Obama, United Nations Secretary-General Ban Ki-moon and Chinese President Xi Jinping.
How it works: Far from being a lofty and look-but-don't-touch ode to the ills of climate change, 1 Heart 1 Tree is designed with widespread participation in mind. 
The massive virtual jungle is powered by users who visit the project's apps or website. There, you can pay 10 euros — about $10.57 — to "grow" a tree. After payment, your shrub briefly appears on the Eiffel Tower, and you're awarded with a message and screenshot of your own unique Tower tree.
That's not all, however. The mobile app takes things a step further and turns your phone's camera into a heartbeat sensor that records your pulse. Using an algorithm to "analyze the chromatic microchanges from blood circulation from your finger," as Forbes put it, the app then produces your tree based on your unique heartbeat.
Each virtual purchase also means the planting of an actual, bark-and-leaves tree in one of the reforestation programs — in Australia, Brazil, France, India, the Ivory Coast, Peru or Senegal — that have partnered with the project. For those who want to follow along without purchasing a tree, a live stream of the growing and disappearing forest can be viewed on the project's website. 
"When we plant a tree, we capture carbon, we put water back in the water table and we help biodiversity regenerate," the artist, Mestaoui, told the New York Times in a November interview.
After a period of darkness following the Nov. 13 Paris attacks, the Eiffel Tower had been lit up in red, white and blue — the colors of the French flag — to honor the victims of the terrorist attacks. Nicolas Hulot, an environmental activist who was present at Sunday's lighting, noted that the shift to green was a meaningful tribute during a difficult time.
"Thank you for reminding us that in a forest, we hear the tree that falls down, but not the thousands of other trees that grow," he said, according to the New York Times. "Like in a city, where we hear the 10 idiots who kill, but not the millions who love themselves."
Paris has been a magnet for environmental demonstrations given its role as COP21's home base. On Sunday, thousands of activists gathered to form a human chain along the city's streets, decrying the effects of climate change. Elsewhere across the city, protests turned violent as demonstrators clashed with police forces.
"People here in Paris, and hundreds of thousands who are taking part in climate marches worldwide, have a clear message for world leaders: Keep fossil fuels in the ground and finance a just transition to 100% renewable energy," Hoda Baraka, the global communications manager for environmental activist group 350.org told the news site EcoWatch. 
Globally, the protests continued, with demonstrations popping up in London, Brazil, Colombia and Ukraine, among others, marched for the environment.
The COP21 talks, which run until Dec. 11, have been declared by many world leaders as a critical point in the global fight against climate change. 
"Never have the stakes been so high because this is about the future of the planet, the future of life," French President François Hollande said, according to CNN. 
"A political moment like this may not come again," Ki-moon noted. "We have never faced such a test. But neither have we encountered such great opportunity."