After a Year of Dominance, 'Hamilton' Has Forever Changed What Musical Theater Can Be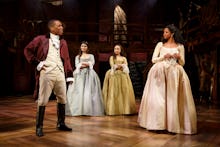 Hamilton hype is perhaps 2015's most absurd phenomenon. Walking out of the Richard Rodgers Theatre on New York's 46th Street after seeing it, the plaudits still feel outsized. Yes, the word "masterpiece" feels apt in the moment, but that's an unfairly high pedestal to put such a new musical on. Can it live up to the expectation?
In a word: yes. Because it is that good. Yet more than just being good in a vacuum, Hamilton carries with it a fondness for musical theater's past — and a way forward for the art form's future.
The story of Hamilton is as American as it gets. Yes, it's about one of the Founding Fathers, Alexander Hamilton, and his life and career from the American revolution onward. More than that, though, it's a story about striving. 
Alexander Hamilton (Lin-Manuel Miranda) cannot stop working. Over the course of the show, he writes 51 of the essays in the Federalist Papers and tirelessly pushes his financial plan through a tough congressional vote. Working "non-stop" is how he's wired.
His wife, Eliza Schuyler (Phillipa Soo), wants to share in that life with him. Her sister, Angelica (Renée Elise Goldsberry) watches him from afar, calling him "an Icarus" who flies far too closely to the sun. His enemies, including Thomas Jefferson (Daveed Diggs) and James Madison (Okieriete Onaodowan), look upon his pace with envy — until his untimely end at Aaron Burr's (Leslie Odom Jr.) hand.
Hamilton is a show about the American dream, both in what it takes to get there and what it can cost at the end. It's also about personal narrative; one of the show's most potent refrains asks, "Who lives, who dies, who tells your story?" Miranda, who is also the show's creator, argues that because he passed, Hamilton's role in American history has been diminished — when in reality, he had perhaps the most quintessentially American story of all.
Because he passed, Miranda argues, Hamilton's role in American history has been diminished — when in reality, he had perhaps the most quintessentially American story of all.
Telling a story about being American is not novel on Broadway. Rent, arguably the last show to have such a seismic impact on musical theater, deals with similar themes of striving for more despite disadvantages. Though Hamilton has a unique vision, the show's inspirations are clear — particularly in the way it's looking to situate itself in the musical theater world.
As Miranda told Vulture back in July, everything from Evita to The Last Five Years to Les Misérables influenced Hamilton. The first lent a structure: Burr, Hamilton's killer, telling his victim's story. The second, a line: "Nobody needs to know" from Hamilton's "Say No to This" is a direct reference to the Last Five Years song of the same name. The third, Les Misérables, is responsible for Hamilton's nearly sung-through score that repeats themes.
Hamilton is not a project that exists apart from the rest of musical theater. Miranda clearly loves this tradition, infusing straight hip-hop (the rap battles between Hamilton and Jefferson) alongside traditional musical theater songs (torch ballad "Burn"). The styles work together beautifully.
With Hamilton, Miranda and his team created a powerful piece about being an American with an innovative, stunning score. On its own, this would make Hamilton impressive. What takes it to the level of masterpiece, however, is in the casting.
It's well known that Hamilton's entire cast is non-white, with the notable exception of the King George III character (currently played by Jonathan Groff). The reason is simple: The casting of non-white actors amplifies the idea of a group of immigrants forging a country together in a way that the audience will get. The effect of that choice, however, is far more complex.
Hamilton looks like a modern musical — or, rather, what a modern musical should be. The casting lends the show a texture that all the great music and story in the world cannot. This is what all shows should strive for, and it's disappointing Hamilton stands out so much on Broadway for that reason.
In the final song of the show, aptly titled "Who Lives, Who Dies, Who Tells Your Story" after one of the recurring motifs, the surviving characters reflect on how Hamilton's life was written after his death. Thanks to others in his life, particularly his wife Eliza, he's been remembered despite the odds.
For a show obsessed with the idea of legacy and leaving an impact, it's appropriate that Hamilton has the chance to change so much in the musical theater world. The shift won't be immediate, but the elements that make the show work — diversity in casting, ambition in storytelling and music — will become touchstones for other playwrights and composers. Miranda, who sought so much inspiration from other musical theater, has become an inspiration himself.
That is what Hamilton leaves behind: a legacy for an art form it loves very much.
Correction: December 3, 2015
Read all of Mic's year-in-review coverage here.