Haim New Album 2016: Latest News on Track List and Potential Release Date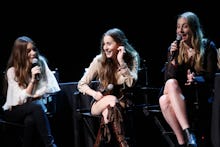 Pop-rock outfit Haim is a heavyweight act out of San Fernando Valley, California, who exploded onto the indie-rock scene in 2013 with its debut record Days Are Gone. Fans have waited for two years now for the trio to release a sophomore album, which has been promised though few details have come to light. Here's everything we know about the follow-up to Haim's runaway hit, debut record. 
What's up next? Last year Rolling Stone reported that Haim was writing on the road as they toured and that a second album would be coming "very soon." Around that time, Alana Haim told BBC 6 Music, "This is the first time we've ever written on the road," according to Rolling Stone. "We're going home in a month to start recording. I promise record two won't come in six years — it'll come very soon."
More recently, on Oct. 30, Pitchfork quoted the band saying they were working on their forthcoming record "every day," and that as far as the finished product was concerned, "the oven is pre-heated and the oven door is open."
Release date still MIA: Aside from that obfuscation, Haim has yet to share with fans a release date, an album title or a track list for the anticipated forthcoming record. However it could be that the sisters are simply busy juggling multiple projects. Over the past few years, the band has undertaken no shortage of collaborations or wide-flung tours. And the sisters are pouring their efforts into a radio show, titled "Haim Time," which premiered via Beats 1 Radio on Nov. 5. 
For Haim fans, it's possible the sisters will spill details on the album during an episode of Haim Time. While they wait, here's proof that the band is indeed recording. The video of Danielle Haim soloing in the studio was captured and shared to Instagram via Rostam Batmanglij, producer and multi-instrumentalist for the American rock band Vampire Weekend and a talented soloist in his own right. 
And in January, Haim tweeted a photo of what looks like track mixing on a computer screen with the caption, "Uh ohz." Pictured in the shot is Ariel Rechtshaid, the producer who worked on Days Are Gone and who has also worked with Vampire Weekend, Sky Ferreira and MNEK. In the lead-up to a long release, check out the video for "Forever" to relive some of the band's best-loved work.