Blu-Ray Releases December 2015: A Full List of Every Movie for Purchase on Blu-Ray in Dec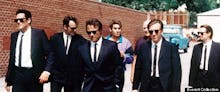 With a surplus of films being released to the streaming service Netflix each month, it's easy to forget that a slew of films are also released in the form of Blu-ray discs each month — an opportunity to make a tangible movie purchase to have and to hold forever. An eclectic mix of cult classics like Reservoir Dogs and newer films like Minions will be made available for Blu-ray purchase in December. 
A slew of films will be released to Blu-ray on Dec. 1, including Zoolander and the Amy Winehouse documentary Amy, according to the Blu-ray website. After that, more films will gradually be released throughout the month across a variety of genres including, but not limited to, thriller, comedy, romance, action and documentary. Here are the top Blu-ray releases for each of those categories, per the Blu-ray website. 
Horror: The 1963 classic Twice-Told Tales, the 2014 critically-acclaimed Austrian horror Goodnight Mommy and the 1966 horror-science fiction film Queen of Blood about a green vampire woman are three of the horror films being released to Blu-ray this month along with season three of the television series Hannibal.
Comedy: the 2001 classic slapstick comedy Zoolander will be released to Blu-ray on Dec. 1 ahead of the Feb. 12 theater release of the sequel Zoolander 2. The 2015 film Ted 2, sequel to the 2014 film Ted about a vulgar teddy bear, will be available to purchase on Blu-ray as of Dec. 15 along with the unrated version. Minions, the animated comedy for all ages, will be available in 2D and 3D versions as of Dec. 8. 
Action: The superhero film Ant-Man starring Paul Rudd and its 3D version will be released to Blu-ray in December along with The Transporter Refueled, 2015's Momentum and 2015's Heist, among others.
Music: In addition to the critically-acclaimed documentary Amy, about the late musician Amy Winehouse, the Allman Brothers' second studio album Idlewild South will be released to Blu-ray in December as well as a six-disc Bruce Springsteen collection. 
Television series: Some of the current most popular television series will be released to Blu-ray in December including the third season of Ray Donovan, the fifth season of Shameless and all seasons of The X-Files.
View the full list of December releases here.