A Former Planned Parenthood Employee Tweeted This List of "Acts of Terrorism" She Survived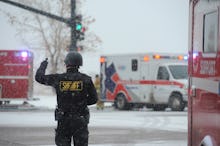 The shooting Friday at a Planned Parenthood clinic in Colorado Springs, Colorado, was horrifying, but according to a former Planned Parenthood worker, it wasn't shocking. Instead, the former employee said, the attack that left three people dead was a continuation of decades of extremist tactics directed at the health care organization's facilities, staff, volunteers and patients.
Author Bryn Greenwood, who tweeted that she worked at a Kansas Planned Parenthood facility for three years, said on Twitter that, in her experience, regular acts of violence, intimidation, arson and vandalism were common.
According to Greenwood, her clinic was targeted with small explosive devices, threats, stink bombs and gunfire. in one attack, an arsonist poured gasoline under the doors and set it on fire. All this at a clinic that, according to Greenwood, did not even provide abortion services. 
(Butyric acid is not a joke. ScienceLab lists the compound as "very hazardous" on skin contact, capable of causing burns, and notes inhalation may result in "severe irritation of respiratory tract, characterized by coughing, choking or shortness of breath.")
Greenwood also said she volunteered at the clinic run by George Tiller, who was murdered in 2009. His killer later told the Associated Press that he committed the murder "because of the fact preborn children's lives were in imminent danger."
Tiller and his clinic were not intimidated by a prior 1993 assassination attempt in which the doctor was shot through both arms.
In an interview with Mic, Greenwood confirmed her dates of employment and position at Planned Parenthood. 
She said that the first arson attempt at the clinic "occurred when I was sitting in my office, about twenty feet down the hallway. The alarm went off, we evacuated patients and called 911. I like to think I was calm, but it was the first time I ever felt truly threatened."
Greenwood added that in her role at the clinic, "I heard some harsh things. Sometimes at community fair events, people walked by my table and said things like, 'jezebel' or 'baby killer.' I had many more people politely tell me they thought sex education in schools was wrong. I even had teachers tell me that."
Greenwood's tweets are part of a wider conversation happening on social media to remind people that Friday's attack, while jarring, is just the latest in a long history of threats on Planned Parenthood clinics and employees. In the aftermath of the Colorado attack, feminist activist Michelle Kinsey Bruns, who uses the Twitter handle ClinicEscort, rapidly churned out 100 tweets detailing Planned Parenthood's history with violence, dating back to 1976.
According to Mother Jones, violence against abortion providers plummeted in the late 1990s after a federal law was passed and a task force under the Civil Rights Division of the Department of Justice was created to prevent it. But since a group called the Center for Medical Progress released a series of heavily edited videos purporting to show Planned Parenthood staffers discussing the illegal sale of fetal organs (subsequent investigations have found no proof the allegations are true) in July of this year, harassment and intimidation are back on the upswing.
National Abortion Federation court filings obtained by Mother Jones show "incidents of harassment against Planned Parenthood facilities increased ninefold [between June and July], and those numbers continued to rise through August." Those incidents have included arson attempts and vandalism, including one incident in which an intruder entered a Planned Parenthood clinic in Claremont, New Hampshire, and destroyed equipment inside.
Nov. 30, 2015, 4:08 p.m.: This article has been updated to include comments from Bryn Greenwood.
Get the news everyone's talking about delivered straight to your inbox every morning by signing up for MicCheck Daily.